Start Press: Daddy's Love, His Yoke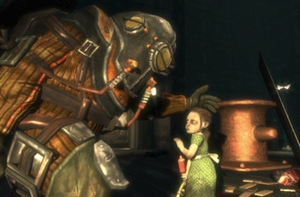 "Then he just sat there holding the binoculars and watching the ashen daylight congeal over the land. He knew only that the child was his warrant. He said: If he is not the word of God God never spoke." (Cormac McCarthy, The Road)
***
This past Sunday was Father's Day, an occasion that has historically compelled me to look outward. It's a day on which I've grown accustomed to considering my own dad, actively muting my lingering nitpicks with his job performance and focusing instead on the ferocity of the man's affection; his contagious, untidy laughter; his irrepressibility; his resolve to never greet life with arms folded. The day of my birth, he was there. The day I left home for college, he was there. Given the brontosaural task of raising children, we shouldn't deem it patronizing to award imperfect fathers bonus points simply for registering perfect attendance.
I'm used to pausing on this Sunday each year to admire the care my older brother lavishes on his two sons, the first of which arrived during college while I loitered in the hospital corridor just outside the delivery suite. But this year, for the first time, I didn't feel like a spectator observing Father's Day from alongside the parade route. This year I found myself caught in the stampede of drum corps formations and clown-suited jugglers. I spent a great deal of time this year looking inward. And you know what I realized: I've got no fucking clue how to juggle.
My wife and I are impatiently awaiting the birth of our first child, a boy, due in roughly four weeks time. I'm not sure other dads would consider me an official member of the 'paternity fraternity' just yet, not until I've undergone the obligatory hazing rituals of sleep deprivation, fecal 911s and pre-dawn feeds. Regardless, I feel like a father already. This seems to be how the human heart operates. When I was dating my wife Summer, my heart already felt engaged to her. During our engagement, I felt no less married to her than I do at this very moment, six years after pivoting from "we" to "We." The outward reality always takes a bit of time to catch up with the inner one.
The thought keeps circling back around like a pop song's chorus: 'I want to be a good daddy.' It's crossed my mind innumerable times over the past several months, but I thought it—felt it—again last night while completing the final stages of BioShock 2.
The most memorable aspect of the first BioShock was not the infamous third-act plot twist, but the oddly symbiotic relationship between the game's Big Daddy characters—hulking figures in diving suits with drill-arm appendages, lumbering around the underwater city of Rapture like purgatorial bodyguards—and Little Sisters, brainwashed into harvesting valuable ADAM from the corpses of the dead. It's difficult to mentally frame the bond between these characters as anything but parent-child.
The Big Daddies are deceptively docile. As soon as they they perceive a threat to their pair-bonded Little Sister, they switch into lethal killing machines. The Little Sister tenderly regards her Big Daddy, often referring to him by the archly counter-intuitive nickname 'Mr. Bubbles.' It's heartrending to behold the innocence of the Little Sister—in her dress, that pretty white sash tied around the waist, her dark hair pulled back in a ponytail. How is her innocence miraculously preserved against the apocalyptic grime and menace of Rapture? Ah yes, the parent stands guard. The girl's protector exhales a rumbling, whale-like moan that rattles the walls. It's a piteous, frightening sound. The parent can't translate his fear into words, but he knows he can only protect this child for so long.
The dark is too ravenous.
The ocean outside is too heavy.
The water leaking from the roof is salty and will not quench the child's thirst.
BioShock pointed silently at the Big Daddy-Little Sister relationship, but remained tantalizingly mum about its backstory. The game asked you to kill Big Daddies. And you complied, if only reluctantly, watching each little girl in turn weep over your handiwork. You couldn't linger to reflect on your actions. You had a billionaire industrialist to hunt down. BioShock 2, on the other hand, casts you in the role of a Big Daddy in search of your own pair-bonded Little Sister, a girl named Eleanor. If the player's driving motivation in the first BioShock amounted to little more than a glorified hit job, its sequel taps into a far richer vein, finding emotional riches in (surprise!) one of the videogame medium's oldest tropes—rescuing a princess, this time your own.
The chorus in my head repeats: 'I want to be a good daddy.'
***
"There's something about you so fragile and delicate / If I could wrap up your innocence, I'd have it done quick / Keep it from the wolves of this present darkness." (Bill Mallonee, "River of Love")
Like its predecessor, BioShock 2 confronts players with a series of moral conundrums. Among them, you must once again choose: (a) harvest Little Sisters for a large quantity of ADAM, which you can spend on helpful character upgrades, or (b) save the Little Sister and restore her humanity. Of course, sparing the Little Sister's life awards you significantly less ADAM.
I played through BioShock like a neatly groomed Boy Scout in pursuit of a merit badge, saving every Little Sister I encountered with self-righteous zeal. It felt like the right thing to do. Whenever games have presented me with these sorts of choices, I've always opted for whatever path guaranteed me an attaboy slap on the back at the game's conclusion. But this time I made the uncharacteristic decision to steer off course.
I killed a Little Sister—just one, granted, but I killed her all the same. I looked into the hollow glow of her eyes and extracted a gluttonous dollop of ADAM before discarding her body. I guess I just wanted to see what would happen. Like Eve turning the forbidden fruit over in her hand, considering the texture of its skin, pondering the juicy question mark of its flavor. I'd started to get annoyed by my own predictability in these game situations. Let me tell you what happened immediately after I killed the girl: the game yawned and waited for me to move along. Similar to the anticlimactic moment following Eve's indulgence, I wasn't struck dead. Strangely the fruit had no taste whatsoever. It was neither sweet nor bitter. It was just something to chew and swallow and digest.
I committed that isolated transgression early in the game, after which point my good-guy instincts sputtered back online. I proceeded to save every Little Sister I encountered for the rest of the campaign, graciously sparing the lives of the game's handful of non-Splicer characters, even the ones who deserved a good drill arm upside the head. But when I finally reunited with my dear little Eleanor, I found a sweet, good-natured girl who also harbored a steely cynicism. She'd been studying her father's example all along, even from a distance. She'd learned from me the ease of moral pragmatism. As far as she was concerned, there was no right, no wrong—only survival.
I was incensed. The ease of Eleanor's moral equivocation needled my conscience, only because I knew it was my fault. I was indignant. I only harvested a single Little Sister! It happened so early in the game, I'd forgotten all about it. Why should the game punish me with this outcome for just harvesting one? What about all the others I saved? Wasn't Eleanor watching when I helped the others? I tried to be a good daddy. I let her down. With just one momentary lapse in judgment, I'd managed to splice her pure, untarnished genes with my sin-spiked ADAM.
"When the woman saw the fruit of the tree was good for food, and that it was a delight to the eyes, and that the tree was desirable to make one wise, she took from its fruit and ate; and she gave also to her husband with her, and he ate." (Genesis 3:6)
***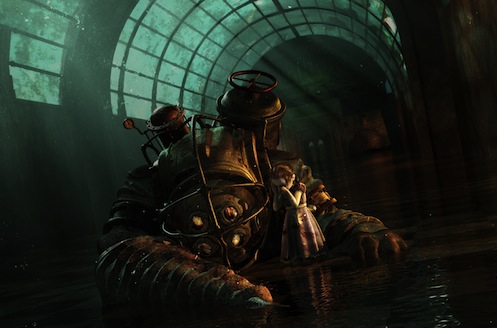 The physical landscape of Cormac McCarthy's apocalyptic love story The Road bears an uncanny resemblance to the Wasteland of Bethesda's Fallout 3. However, its narrative—a father living only to shield his son from humanity's descent into hellish, unfettered Darwinism—mirrors the BioShock universe with startling fidelity.
The Big Daddy, of course, lives only to protect the Little Sister. His quest to insulate the child from rotten, fallen Rapture could tickle a cynic into fits of laughter with the sheer magnitude of its futility. Still the Big Daddy gives it his best shot. He tries because the child's spirit is a pearl. Evil forces are clamoring to snap the clam's spine open and sell off that jewel for a pittance. The single most heartbreaking thing about the BioShock games is this: the Big Daddy is never quite big enough, the forces of evil are always more immense.
In the end I chose to sacrifice myself for Eleanor. It was the least I could do. Sometimes Roman louts nail Jesus to the cross, but other times he has to climb up there and whack in the nails himself. This was my penance. Before I expired, I looked on silently as my little girl staunched her eyes with a plum-sized fist not nearly big enough for the job. I knew she loved me, despite my failings. She told me she'd miss me. I swallowed hard.
The dark is too permanent.
The ocean of loss is too heavy.
The water leaking from the child's eyes is salty and will not quench her pain.
***
As I wait out these final weeks until my son emerges from the cramped confines of his own dark, underwater city, I look forward to being a daddy. Even still, the sloshing swells of joy and expectation recede from time to time, revealing a chilly undercurrent of panic and self-doubt. What if I can't protect him? What if the jaws of this world tear him from my grasp and chew him to mince? What if he shuns my example? What if he follows it? Which do I dare prefer?
At the bottom of the ocean the water is frigid. But it's also still. Looking out into its depths through a window in Rapture, I can see brightly colored coral swaying as if in a breeze, recorded and played back in slow-motion. The sunlight is somehow able to reach us even at these forbidding depths. The bright shafts quiver gently, illuminating schools of fish. Their scaly silhouettes weave by in tight clusters like blood-bonded family, held in formation by invisible strands that cannot break.
***
"Oh! hush thee, my baby, the night is behind us,
And black are the waters that sparkled so green.
The moon, o'er the combers, looks downward to find us,
At rest in the hollows that rustle between.
Where billow meets billow, then soft be thy pillow,
Oh weary wee flipperling, curl at thy ease.
The storm shall not wake thee, nor shark overtake thee,
Asleep in the arms of the slow-swinging seas."

(Rudyard Kipling, "Seal Lullaby")
***
Jason Killingsworth is Paste's games editor. He is based in Dublin, Ireland, and writes about music, film, tech and games for a handful of outlets. You can follow him on Twitter @jasonkill or drop him a line at jason [at] pastemagazine.com.
Others Tagged With