Start Press: Immersion 2.0 (A Bug Report)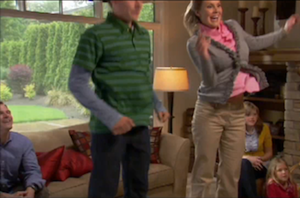 If you've watched any online streaming video coverage of E3's press conferences this year, chances are you've seen people jumping and/or flailing their arms in front of a television. At Microsoft's press conference on Monday, they showcased their Kinect motion-sensing device, previously called Project Natal.
Onstage at LA's Wiltern Theatre, a handful of Microsoft staffers navigated a virtual white-water raft down a virtual river. They leaned to steer. They jumped to launch the raft into the air to reach in-game collectibles. They squealed with delight, presumably when the scrolling text on the teleprompter read "[SQUEEEAAAL!!]" The rafting mini-game actually looked super fun. It was hard to watch without feeling the urge to push one of the players aside and take your turn. (Not bad at all, Microsoft. I give you full permission to rent out an aircraft carrier and hoist a giant banner proclaiming, 'motion accomplished.')
The motion-control revolution Nintendo heralded with the release of its Wii game console set a new accessibility benchmark. Wii bowling leagues sprang up in convalescent homes. People who never considered themselves gamers couldn't wait to get their hands on the cutting-edge Wiimote and virtual-fish, virtual-golf, etc. Nintendo's target market expanded from people who play videogames to people who have arms and legs. That's a lot of potential customers. It's no wonder Sony and Microsoft have been playing frantic catch-up ever since.
I can appreciate the accessibility/commercial rationale for motion control. Looking at my Xbox 360 controller with its numerous triggers and analog sticks and variously colored buttons, it's easy to empathize with non-gamers who find that hunk of plastic as welcoming and intuitive as a Boeing 747 cockpit. What I don't understand, however, is this specious notion that somehow mimicking real-life gestures in front of a television heightens one's sense of immersion.
At Nintendo's press conference, Shigeru Miyamoto personally demoed the latest installment in the Zelda franchise, Legend of Zelda: Skyward Sword. As the crowd's whoops and hollers faded to a reverent hush, Miyamoto showed how to defend with your shield (punch the left hand forward like you're thrusting out a shield). He showed how to shoot the bow and arrow (hold your left hand in front of you and pull your right hand back as if shooting a bow and arrow). He showed how to swing your sword (swing the Wiimote in your dominant hand like an imaginary sword).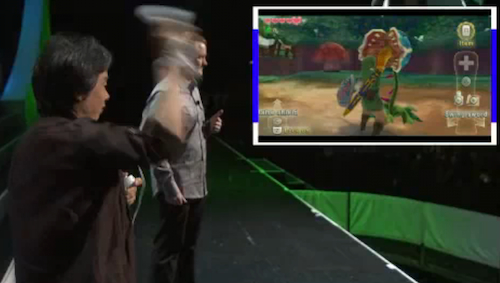 With each new gesture Miyamoto demonstrated, the game seemed less about Zelda, and more about a solitary, thematic twist on charades. Skyward Sword doesn't appear especially concerned with jump-right-in accessibility—players will have plenty of buttons and gestures to commit to memory. Rather, its mission seems to be centered on encouraging Zelda fans to play-act the part of the series' beloved protagonist Link. I found the spectacle of the Skyward Sword demo depressingly misguided in its conception of player immersion.
The wonderful thing about videogames is how effectively they simulate a fictional reality. Players are invited to inhabit an avatar onscreen, making choices and affecting the virtual world that character inhabits. The level of immersion hinges on how vividly a game studio's art department realizes that fictional world, how believably written its dialogue and voice-acting is, how meaningful the player's actions feel. Audience immersion in videogames doesn't depend on gestures and play-acting any more than it does in the case of a gripping novel.
Can you imagine someone trying to make a case that books offer a less immersive fantasy because the reader participates while in a mostly stationary position, holding a bound set of pages in her lap? That you'd experience a heightened sense of immersion if you got off the couch and paced around your apartment every time the book's protagonist happened to be walking somewhere? We snort at such hypothetical absurdity, and yet in 2010 game developers still believe that swishing our right arm through the air will make the fantasy of swordplay more viscerally satisfying.
I find it telling that USA Today journalist Brett Molina spends the majority of his blog entry about his hands-on time playing Legend of Zelda: Skyward Sword comparing the game to Wii Sports: "After slashing mushrooms, rolling bombs at foes and shooting down fruit with a bow and arrow, the [Wii Sports] gameplay comparisons are hard to escape." I'd push further and contend that any game relying on motion-control gestures will inevitably begin to feel like a loosely related batch of mini-games. Link slashing a man-eating plant according to the angle its mouth opens, that's a decent mini-game right there. But as a single component of a larger game experience, it's just a tedious gesticulative hoop to jump through.
I don't want to sound too sour. Motion-control devices such as Nintendo's Wiimote, Sony's Move wand and Microsoft's controller-free Kinect are delightful complements to party games involving multiple players. In such a context, gesture-based gaming creates a wonderful sort of impromptu living-room performance art. However, in the case of narrative-driven, single-player experiences that typically involve longer stretches of play, I consider motion control a plague, a novelty sideshow, a self-congratulatory tech demo, a tyrannical and tiresome distraction. After your first 10 hours miming dutifully along with Link in Legend of Zelda: Skyward Sword, you'll be thinking about immersion all right—a therapeutic, muscle-relaxing Jacuzzi dip.
Jason Killingsworth is Paste's games editor. He is based in Dublin, Ireland, and writes about music, film, tech and games for a handful of outlets. You can follow him on Twitter @jasonkill or drop him a line at jason [at] pastemagazine.com.
Others Tagged With