Uber-Beardo Jack Passion Talks National Beard and Moustache Championship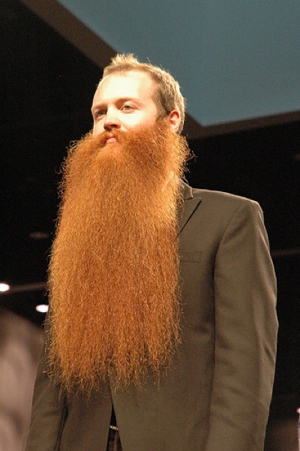 Jack Passion is a world champion and he isn't shy about this distinction—the title is even printed on his business cards (on one side, at least; the other offers his bass-playing services). His global domination isn't the result of his athletic prowess or any other feat of strength or intellect, but rather the swath of red hair that begins on his face and cascades down to his beltline.
Passion (pictured) took home top honors in the "full beard natural" category—the competitive facial-hair equivalent of boxing's heavyweight class—at the World Beard and Moustache Championships in both 2007 and 2009. But when hirsute hopefuls convene in Bend, Ore. this weekend for the first-annual Beard Team USA National Beard and Moustache Championship, 26-year-old Passion (who's parlayed his expertise into The Facial Hair Handbook) won't be joining their ranks. Instead, he'll be serving as the event's host—a gracious move, considering that he would almost certainly dominate the rest of the hairy men (some of whom consider him their idol) who will spend their Saturday putting their 'staches and face-blankets against one another at Bend's Les Schwab Ampitheater.
"If I say something like, 'I want to give other people a chance,' then that just comes off as arrogant," says Passion, whose beard just turned seven years old. "But there are really a lot of great beards out there that do deserve a chance."
As ridiculous as it may sound to the clean-shaven, the event has drawn entries from facial-hair enthusiasts from Miami to New York to Ohio, in addition to a throng of local beardos in Oregon, where fleecy-faced men are as common as fir trees and rainy days. But being a contender in such a contest requires more than just throwing out the razor; creative styling of moustaches and beards, as well as costumes, play heavily into competition. Entrants at past National Championships include a few men wearing Civil War uniforms, a skinny guy dressed in ringmaster attire and at least one dude whose curly mustache and pointed goatee paired perfectly with his musketeer getup.
Passion is a fierce competitor ("There's definitely an eye of the tiger in me," he says.), but appreciates how the National Championships will provide like-bearded folks an opportunity to gather and celebrate their follicular achievements. "Being a beardsman includes a lot of honor," says Passion. "We're acknowledging that we're doing what we think is the right thing, even if other people think it looks bad."
Watch Passion and other competitors at the 2007 World Beard and Moustache Championships:
Got news tips for Paste? Email news@pastemagazine.com.
Others Tagged With