140-Character Characters: The Best of Twitter's Very Strange Mad Men Alterna-Universe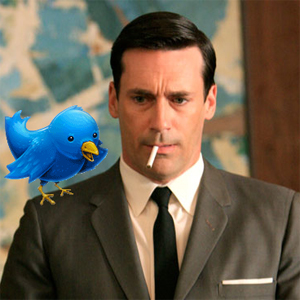 This story is a part of our Mad Men Takeover. Season four of the series premieres on AMC this Sunday, July 25.
—
Twitter, we know, is a very odd place. Powered by briefly-spewed diatribes, vague confessions, passive-aggressive jabs, hysterical outbursts and off-the-cuff notes left to fester into strange profundity, it so often operates as a parallel universe to its users' daily lives; faces and personalities and relationships are basically the same, just a little looser, a little bolder, and somehow both more and less real. And—despite the fact that the show's characters can hardly get their heads around a Xerox 914 copier, let alone the internet—so it is, too, with the world of Mad Men.
Best as we can tell, the show started staking out its territory on Twitter around August 2008—or, we should say, the Twitter territory was staked out for the show, beause then and now it was fans (not AMC flacks) who set up and maintained accounts for its characters, from Don Draper on down to the lowliest Sterling Cooper secretary. AMC even briefly had the accounts taken down, but backed off at the behest of a web-savvy marketing arm. Since then, Mad Men's ranks on Twitter have grown to include two seasons' worth of new cast members, most of which post fairly frequently and true to their onscreen lives (with the occasional non-canonical interaction between characters who, in the series, have never once met), but the best ones tend to cannily improvise as much as they reference actual events on the show.
The most-followable Mad Men on Twitter aren't even the most prominent characters on the show. Unsuprisingly, the secretive and laconic Don isn't entirely well-suited for the TMI-prone world of modern social media; Betty, his cloistered wife—who perhaps would have found a happier life for herself in the world of mommyblogging if she'd been a mother fifty years later—mostly offers brief dispatches of domestic desperation. It's lesser characters that are more poignant, and more fun to read; on Twitter, the marital strife of the Drapers' neighbor Francine Hanson becomes more comically pronounced, and (spoiler alert!) the ghost of Betty's father is far more amusing in death than he was in life. Then, of course, there are ground-level reports from the Sterling Cooper offices; there's the secretaries, sure, but some industrious soul has created Twitter personas not just for the newfangled copier or the Teletype machine, but even a rogue bug from the ant farm smashed in the third season. Even Lane Pryce's taxidermied cobra chimes in.
Marketers call this "brand ambassadorship"; you might call it "fan fiction." We call it "an unprecedentedly compelling time-suck," and here are 140-or-so 140-or-so character posts from 55 (actual and made-up) Mad Men characters on Twitter.
Others Tagged With