Avett Brothers Release Video, Ready Live Album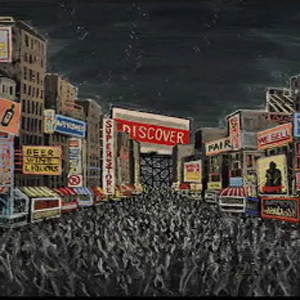 Our favorite musical North Carolina siblings, the Avett Brothers, have released a music video for their latest single, "Head Full of Doubt/Road Full of Promise." The song was a track on one of our top 10 favorite albums from the last decade, the Avett Brothers' 2009 release, I and Love and You.
The video, which uses Jason Ryan Mitcham's animated landscape paintings to illustrate "the rise, fall and inevitable decay of rampant urban development," premiered on NPR yesterday. Scott Avett says the clip's depiction of a city being built and subsequently crumbling into a wasteland accurately portrays the song's message. "'Head Full of Doubt/Road Full of Promise' was written about the temporary nature of our buildings and our mentality," he tells NPR. "Accepting the temporary state we may be in. [Artist] Jason [Ryan Mitcham] with his landscape paintings, and some that I'd seen that he'd animated, dealt with the temporary nature of the world around us."
For the video, Mitcham reportedly used one original painting that he transformed 2,600 times.
The Avett Brothers also recently recorded their set at Bojangles Coliseum in Charlotte, N.C. Aug. 8 and will be releasing a live CD, along with DVD footage of the performance, on Oct. 5. The album and its accompanying DVD, Live, Volume 3, was shot and mixed by I and Love and You producer Ryan Hewitt. The DVD will also include segments of interviews with the band.
Got news tips for Paste? Email news@pastemagazine.com.
Others Tagged With