Best of What's Next: Smoke Fairies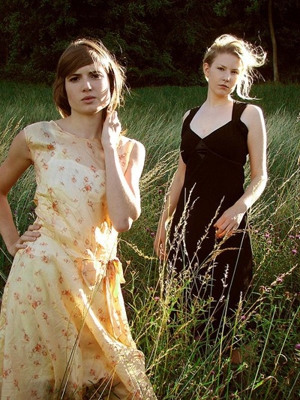 As seductions go, it's doesn't get much more spine-tingling than the Smoke Fairies' Ghosts EP, a collection of songs at times darkly suggestive, at others coolly distant, with mournful lyrics and moody folk-rock melodies set to a bluesy pulse and hypnotic electric guitars. The duo is Jessica Davies and Katherine Blamire, two London natives whose lives, clear voices and fingerpicking have intertwined since their early teens. In recent years, they've slowly built a following in the U.K. and toured supporting Richard Hawley and Bryan Ferry, and debuted in the U.S. this spring supporting Laura Marling; late last year, they issued their "Gastown" single on Jack White's Third Man Records, and played London's Meltdown Festival, curated by folk hero Richard Thompson. Paste recently met the Fairies for a pint at the cozy Gladstone Arms, one of their favorite London pubs, to talk about their upcoming album, their nomadic musical friendship and what Blamire calls the "intrinsic blues of being a person."
Paste: Since we're on your home turf, where do you usually play in London?
Katherine Blamire: We've pretty much played everywhere, from the smallest place to the biggest place. It feels like it, anyway. Obviously, in the bigger places, we're the support band. I feel quite happy about where we've got to at the moment, and it's good to be able to headline our own shows now—which has taken a lot of work, 'cause London's not easy. To build up a fan base, and build up a block of people that are going to want to come and see you, has taken a while. But that's good—we've been going for a long time, and that's sort of the way we like it, because the kind of music we play, you have to understand it to enjoy it. We're not a kind of flash in the pan—it's years of playing together that's created what we do. The slow build, really, is what we're all about.
Paste: Is there a particular venue that's your home base? You'd said this pub is one of your favorites.
Jessica Davies: I don't think we've got a home base. This is probably the drinking home base. When it comes to playing, we've never been part of a scene in London. I think a lot of scenes are based in certain parts of London, so that would make sense having a base, but we—
Blamire: But we don't really like the idea of scenes particularly, because they're restrictive. I don't know, they just don't seem to have a lot of point to me, creatively. We prefer to operate outside of them.
Paste: Yet you're happy to tour supporting Laura Marling?
Davies: I think that's different. She's always termed as being from this folk scene in London, with Noah and the Whale and Mumford & Sons, so she's very much part of that scene. That's more of a West London thing, I think. We only really met her on tour. Kath played banjo on her stuff, and obviously, touring with someone, you do get influenced by them, but that's different, isn't it?
Blamire: She's obviously an amazing musician and a brilliant songwriter, so that's a different thing to living in London. Touring around with U.S. with someone you admire is a dream come true, really, but in London, we've just never really been part of a scene, I guess.
Paste: How did Smoke Fairies get started—and what about those years you spent in Vancouver and New Orleans?
Davies: We started playing together when we were 13 in school, and then we've just been playing ever since. And we went to New Orleans to live for a year, and then we came back here and we thought, "Oh God." There was lots of pressure to get a job, and people start saying, "Oh, so what are you going to do with your life?" So we just went to Vancouver for a year, and then kind of came back here and tried to do music properly.
Paste: You just picked up and moved to New Orleans? Were you playing shows, staying with friends? Squatting?
Davies: No, it was a study thing. We went to Tulane University, down in New Orleans, and studied there for a year.
Blamire: And the Vancouver thing was just kind of random. We'd seen it in a brochure, and we're like, "It looks really nice!" (Laughs)
Davies: That was kind of more like a squat—we were paying for it, but it was pretty disorganized.
Blamire: We weren't sure what to do or where to go next, so we just went somewhere that looked cool and had different jobs, kept getting fired all the time, and sort of somehow made it through. And just went out a lot and just had experiences, and we'd wake up every morning and there's mountains, and that whole kind of environment was very influential as well. We got evicted at the end. But that was fine, because we were leaving anyway. It was kind of a disorganized year, but it was very good for building up material for songs, 'cause when everything's a bit chaotic, it's always good inspiration for letting out some of it in the songs.
Paste: And you two have stuck together through all these changes. Was that always a conscious effort?
Davies: Yeah, but I think as soon as we started playing guitar when we were 13—you know, when you start something and you're really young, and you're like, "Yeah, let's be pop stars!" (Laughs) "It's gonna be really cool." But then most people later think, "No, that's actually a really stupid idea."
Blamire: Most people mature out of their crazy dreams, but we just never did.
Davies: It's got to the point where it's gone too far, and we can't back out. I think we do have a connection that maybe a lot of people don't have. Like some people would find it strange that we've stuck together ever since we were 13. Because it has taken a lot of effort to go to these countries, and we're still here now, doing this.
Blamire: In my mind, in life you're bobbing along, and there's always two options that pop up: There's the safe route, that your parents are going to be happy about, and it's probably going to lead to some sort of security, and there's the fun, interesting, dangerous one. And I've always found that it's more interesting to pursue that one, and that generally involves sticking with Jessica!
Paste: I tend to make that choice too. Although without Jessica.
Blamire: I think everyone has these decisions that they make, and a lot of times there's pressures to make a choice that perhaps, deep down, you don't really want.
Davies: But that's deemed normal. People are like, "You can't carry on just following your friends around!" when you're little, and you're like, "Oh, I want to go to the same college as them," and people are like, "That's a stupid decision!" But, it's not really, if that's what you want to do.
Blamire: Some things just make sense in a way that you can't explain to other people, and you just have to be truthful to what you think is the right thing.
Paste: Ghosts is a limited-edition collection of singles and an EP—was it compiled specifically for the U.S. tour?
Davies: Yeah, well, we were going on tour, and also, there's this record-pressing plant [that] we went to visit while we were down in Nashville. And they pressed it up for us, so it kinda made sense to put everything together on one 12-inch, and make it kind of cool—it's marbled.
Blamire: They're called 453 and they're sort of trying to start their own sort of label, distribution thing. I think we're the first thing that they've tried, which is quite exciting for us, because we love the place. It's like, proper old school—they give you a tour, and you can see the vinyls actually being pressed in these machines. I've never felt that connected to the actual physical thing as now, which is why I think that release is sort of special.
Paste: It seems like what people want now.
Blamire: I feel like people are going back to wanting a product that's got something—it's like a piece of something that goes with their love of music. Rather than an mp3, which is nothing, really—you can't put them on your shelf, you can't point to them and say, "Oh, that reminds me of that day." And I think that's what makes vinyl so special.
Paste: Your sound can seem austere, chilly—but there's also a swampy heat. How do you see it?
Blamire: I quite like the idea of thinking of it in terms of seasons. The record we just recorded, which we're hoping to release in the U.K. in September, is very autumnal, quite wintry and sad. And I think as songwriters, you do go through seasons of sounds. Ghosts has got quite a wintry feel.
Davies: It's got quite a wintry feel, but it's hard to describe it as one thing, because there were a few different sessions that led to the one EP.
Blamire: I guess a lot of the songs were drawn from the experience of living in New Orleans and Vancouver, so New Orleans has that kind of heat and swampy vibe, and that's definitely come out in it, but then Vancouver's got the mountainous chill. And I think both of those sounds collided on that record.
Paste: Tell me about the song "Frozen Heart."
Davies: It's the perfect example of what a lot of people say we do, merging the swampiness of the deep South—the guitars are doing that—but I think the vocals are very English, and that represents the influences that we're drawn to.
Blamire: Both American and English folk have this immense beauty and sort of mournfulness to them that we just love. To me, both American and English folk are drawing off the same thing, the same sort of emotions, the same struggles, the same intrinsic blues of being a person, you know? And I don't find it that surprising that someone from England whose traveled in America would end up with a fusion.
Paste: Agreed.
Blamire: I think what makes us different is this combination of the two of us and the differences in vocals and the blending of vocals and guitars. And that's where we've kind of twisted the styles.
Paste: The interplay between your voices is fascinating—seeing you live, the melody seems to shift back and forth between you.
Davies: I don't think anything we do is normal, maybe. Like some people, musicians and stuff, when they go to play along with our songs, they're like, "But this doesn't actually follow the beat—there's no start or finish to the bars," and stuff.
Blamire: A lot of things just go around in circles.
Davies: In weird circles that aren't really normal.
Blamire: Sometimes the circles don't meet with the circle I'm doing. I think we try to bounce off each other and play off each other. We're into mingling rather than one person pushing out [as a lead singer]. We'll do songs where the main melody—we have arguments about what the main melody is. "No, no, the tune's this!" "Well, how do you know that's the tune now?"
Paste: Do you always perform with a band, or is it sometimes just the two of you?
Davies: Just the two of us is something we like to do as well. It's kind of more intimate and creepy, in a way. I mean, we like what the band brings to it—it's more of a swampy, more rock feel, which is great. But there is something special about playing with just us.
Blamire: There's a kind of weird intensity to it, when we're on our own.
Paste: So, you just finished a new album that coming in September—what's it like?
Blamire: We kind of recorded with the people we were touring with recently.
Davies: It's half band, and half very intimate acoustic songs.
Blamire: We stripped it down quite a lot in places, where it might just be one person playing the guitar. So, we've experimented with a greater range of dynamics. You don't want to be stuck in a formula. We kind of got a chance to try out all of the ideas we had for the songs. I think it's quite dramatic to listen to, I just think some of the songs have got drama in them somehow.
Paste: I'll bet. Anything else on the Smoke Fairies agenda?
Davies: No, we don't really have an agenda. We've mentioned the album, so that's all we can do.
Blamire: I'm sure we got our subliminal message in there somewhere. And I can't tell you what that is, because it would ruin the plan.
Others Tagged With