Adult Swim to Debut Children's Hospital on Sunday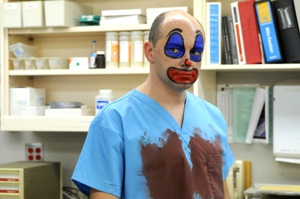 Finally, there's a hospital show for those of us who are still drinking-our-feelings devastated over the loss of Party Down, never got into the whole McDreamy/McSneezy/McBashful thing and left the movie Patch Adams with a bad taste in our mouths.
Say hello to Children's Hospital, a comedy series that takes a scalpel to the traditional, overwrought, raging-hormones medical drama and gives it an insane and utterly hilarious makeover. The show, created by Daily Show alum Rob Corddry and produced by Jonathan Stern and David Wain (Stella, Wet Hot American Summer), began in 2008 as a web series on TheWB.com. It makes its TV debut on Cartoon Network's Adult Swim this weekend, with the original webisodes and all new episodes.
In addition to Corddry, who plays a clown (a clown "by race," he clarifies) doc who believes in "the healing power of laughter," the show sports a stacked comedy lineup, including Henry "Barry Zuckercorn" Winkler, Party Down's Ken Marino and Megan Mullally (skewering ER's Dr. Weaver).
Children's Hospital will premiere this Sunday, July 11, at 10:30 p.m. EST on Cartoon Network. In the meantime, you can catch the trailer, cast interviews and preview a full episode on the Adult Swim show page.
Got news tips for Paste? Email news@pastemagazine.com.
Others Tagged With