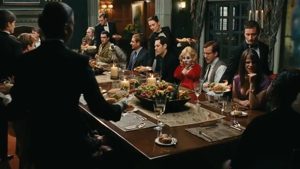 Director: Jay Roach
Writers: David Guion, Michael Handelman
Cinematographer: Jim Denault
Starring: Paul Rudd, Steve Carell, Zach Galifianakis, Jemaine Clement, Stephanie Szostak
Studio: Paramount Pictures
You may say he's a dreamer, but he's not
Dinner for Schmucks is pure, sharp, unrelenting cheese. Based on the classic French comedy Le Diner de Cons written by Francis Veber, the idea of a group of high-powered execs holding a monthly competition for who can find the "most special person" promises straight-forward hilarity. Tim (Paul Rudd), a financial analyst aspiring to the 7th floor at his firm, is dating a gorgeous art museum curator named Julie (Stephanie Szostak). Enter Barry (Steve Carell), a well-meaning but comically off-kilter individual who then sends everything into a tail spin while Tim grapples with the morality of using Barry's idiocy to advance his own career in spite of his girlfriend's wishes.
The movie hasn't got much going for it in the big picture—the story is too predictable and the characters too one-dimensional—but from closer up, there are plenty of little moments that shine. For starters, Carell's quirks: his "mouseterpieces," where he turns dead rodents into classic works of art, and his ability to play opossum are unequalled. Other memorable dinner picks are played by some of the most high-powered comedic talent out there, among them Jemaine Clement's nature-inspired artist, Zach Galifianakis' mind-reading IRS boss and Chris O'Dowd's blind fencer. Director Jay Roach (Meet the Parents) stays true to his style, producing cringe-worthy sequences of Barry's well-meaning but ultimately disastrous attempts to help his new best friend.
Dinner for Schmucks goes for the well-meaning-idiot-with-big-heart trope and ultimately delivers, but not without the due amount of schmaltz and property damage.
Watch the trailer for Dinner for Schmucks:

Others Tagged With