Guillermo del Toro and James Cameron Take On H.P. Lovecraft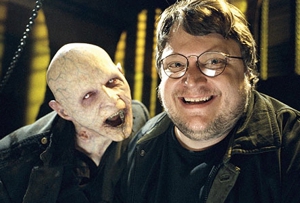 We were kind of surprised and disappointed when Guillermo del Toro dropped his oft-hyped and unexpectedly-protracted directorial role with the Peter Jackson-produced Hobbit. But now that more and more of his projects are coming to light, it's no surprise that del Toro shied away from making the commitment: not only did he recently announce an adaptation of The Haunted Mansion and hype his upcoming Don't Be Afraid of the Dark, but he's got something cooking with James Cameron, too.
Deadline.com reports that Del Toro is a step closer to supposedly directing an adaptation of the H.P. Lovecraft novella At the Mountains of Madness with James Cameron on board to produce. This comes as his touted project-worth-leaving-The-Hobbit-for, a horror film shot in 3D and based on a story about gruesome scientific discoveries in the early 20th century and the origin of humankind.
The adaptation has reportedly been in the works for a long time, but only came to fruition recently.
"We are rewriting slightly the screenplay we've had for 12 years," del Toro told MTV News. "Matthew and I believe that a screenplay like that you have to tackle again every so often. We tackled it last about two years ago, [when] Matt and I felt like we needed to rewrite some stuff. Matt is my greatest writing partner because we keep updating anything we haven't shot, we keep saying, 'Let's do another rewrite.' So we're going to do another rewrite in the next couple months.'"
Got news tips for Paste? Email news@pastemagazine.com.
Others Tagged With