Guillermo del Toro Takes On Disney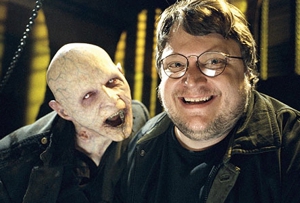 This weekend was big for Guillermo del Toro, once-figurehead of The Hobbit now gone rogue with his own projects. The writer/director made a showing at San Diego Comic-Con for his upcoming film, Don't Be Afraid of the Dark, which is a remake of a 1973 television feature. But del Toro surprised everyone on Thursday by showing up at—of all things—a Disney panel.
After the panel for Tron: Legacy, del Toro took the stage and announced that he would be producing, writing and possibly directing a movie adaptation of the theme park's Haunted Mansion ride. (We're going to forget the first movie adaptation of The Haunted Mansion with Eddie Murphy ever happened.) The decision seems to come in part from del Toro's long-standing fascination with the ride.
"For some people, it's just a ride, but for others like me, it's a way of life. We're serious fanatics. I'm a big, big collector of it. I've been collecting not only memorabilia but artifacts and original artifacts from the mansion for the past 10 years," he said.
The film will take a different angle than the 2003 family comedy. Del Toro told MTV that he plans to take the core mythology of the ride and expand it so that there are similar haunted spots all over the world. The central haunt of the movie will be the famed Hat Box Ghost, he said, which basically has a cult of fans because of a legend that it was discarded on the first day of ride operation because they thought it was too scary.
Others Tagged With