LCD Soundsystem's James Murphy Wants to Work With the Arcade Fire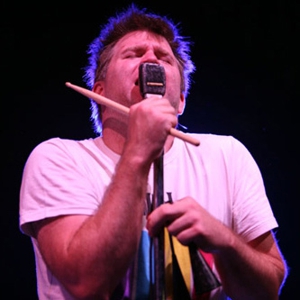 It seems as if LCD Soundsystem frontman James Murphy suffers from that same there's-not-enough-hours-in-the-day feeling as the rest of us. A self-proclaimed "busy person by nature," Murphy's recent interview with BBC News (via self-titled) seems to indicate that it's too early to consider LCD Soundsystem off the map quite yet.
Ramping up to the band's newest album, This is Happening, rumors flew that it would be the last full-length released under the LCD moniker. Murphy, it seemed, wanted to devote more time to his other projects—like producing under the DFA umbrella, hosting weekly dance parties, or collaborating with the Arcade Fire, a project he says he turned down twice in the past due to poor timing.
Murphy told BBC News that he "missed the opportunity to work with Arcade Fire in the studio twice on two albums in a row just because they were recording at the same time I did and that broke my heart 'cause we toured together." Now that he's 40, reflecting on the success of the latest album, Murphy shows no signs of slowing down; in fact, he hopes to start serious work on many of his back-burner projects, like producing remixes, planning a festival in New York City, releasing 12" dance records, hosting weekly parties, and collaborating with Soulwax and potentially the aforementioned Canadian rockers with an album on the way.
"I haven't had the chance to just not have a plan," he said. "If I have an idea, and I write it down, and it goes in this pile of things I want to do."
Got news tips for Paste? Email news@pastemagazine.com.
Others Tagged With