Watch Boston-Themed Mad Men Spoof, MA Men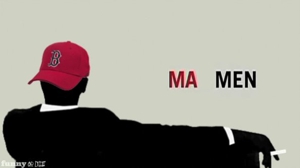 This story is a part of our Mad Men Takeover. Season four of the series premieres on AMC this Sunday, July 25.
—
If Mad Men didn't take place on 1960s Madison Avenue, the runner-up setting would have to be modern-day Newbury Street, right? Well, maybe not, but the original Boston-themed Funny or Die spoof, MA Men, had us laughing all the way to our "pahked cahs." Thankfully, the whole gang is back for another round with MA Men 2.
Bay State-area comedians Rob Delaney (one of our comedians you should follow on Twitter), Joey McIntyre (yes, of NKOTB fame), Nate Corddry, Jamie Denbo and Nat Faxon present us with this second installment of the sketch. In lieu of the crisp high-waisted trousers and ties common to Sterling Cooper Draper Pryce, Sox, Celts and Pats shirts are this office's attire of choice. This time, "Drapah" and "Rogah" have a new conundrum: Dunkin' Donuts' "Time to make the donuts" guy, Michael Vale, is dead, and they need to find a new one. "Mahky-Mahk," Steven Tyler, Barry and Eliot and others are considered before Peggy drops one of Beantown's holiest of holy names: Tom Brady.
Sully appears with a six-pack of Sam (Adams, of course) that the group promptly pours out for the departed Vale, and no Boston-themed anything would work without some mention of "the Gahden," Larry Bird and Boston sports teams' mid-'80s golden years. Enjoy the video, below. Oh, and go Pats:
Got news tips for Paste? Email news@pastemagazine.com.
Others Tagged With