Mr. Unpopular: Gary Shteyngart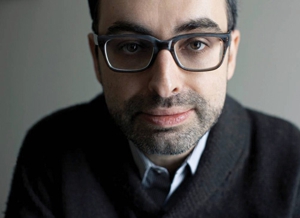 Page 1 of 2
In his new novel, Gary Shteyngart takes on the big themes—war, tyranny and talking otters. He's a talented satirist and an unrepentant literary glutton. No wonder he's so out of fashion.
In 2007, over a teetering pile of pigs' feet in a midtown Manhattan Korean restaurant, writer Gary Shteyngart told me that he doesn't think of himself as an intellectual. "I'm an entertainer," he said, with the self-deprecating delivery of Borscht Belt comedian. "Like Eddie Murphy, or Condoleezza Rice."
Three years later, we were back at a Korean restaurant in Midtown. It was bright and noisy, a study in contrasts: clean white walls and right angles interrupted by tables laden with anarchic heaps of ribeye, broiled pork and fiery kimchi. I was asking Shteyngart about his new novel, Super Sad True Love Story, which comes out in July. It's a boisterous, romantic, unabashedly political, altogether wonderful vision of a dark, stupid American future. What was it that had led him to write a book this messy, this bold and loud?
"We're having a Korean meal," he said between mouthfuls of meat wrapped in lettuce leaves. "I enjoy the protectionism of certain Japanese foods—they're small, they're done with a lot of thought behind them. But often, I want to eat a lot of meat and I want myself to be on fire. That's what I want to do. Sure, it's sloppier than certain cuisines. Or classical French versus southern Italian, for example. You know where my sympathies lie. They lie with southern Italian, Korean—that's the kind of person I am. I don't give a crap if every sentence isn't beautiful."
Not to say that Shteyngart's books are especially food-centric any more than those of, say, Sam Lipsyte (a friend, colleague, and major touchstone of Shteyngart's) or Jonathan Franzen. But the way he talks about food—passionately, angrily, referentially—is the way he talks, and writes, about everything. In an age of carefulness and small stakes, Shteyngart's grand literary ambitions—hilarious, apocalyptic, romantic—evoke Joseph Heller and George Orwell in equal measure and seem just as revolutionary. "This is also a book about too much love," he writes on the first page of Absurdistan, his 2006 bestseller, and indeed, reading Shteyngart is not for the easily over-stimulated.
Shteyngart was born in Leningrad in 1972 and moved to the United States with his family when he was seven years old. He grew up in Little Neck, Queens and went to Stuyvesant, the legendary public high school also attended by Eric Holder, Thelonious Monk and Lucy Liu. He went Oberlin (which might have something in common with Absurdistan's Accidental College, described as "a venerable midwestern institution for young New York, Chicago and San Francisco aristocrats where the virtues of democracy are often debated at teatime," and where "we were taught that our dreams and our beliefs were all that mattered") and then returned to New York.
Back on home turf, he spent the next few years intoxicated ("I was kind of a party animal when I got out") and getting fired from jobs at various nonprofits, including the New York Association for New Americans. "We'd all get trashed at work—I'd write, and I'd get trashed," Shteyngart says, still a bit bewildered by his good fortune among the unfortunate. "There were so many Russian poets working in the department of communications, and our job was to write brochures for Russians coming in like, 'You're going to an American party—Don't get drunk out of your mind and beat your wife—Don't do that!; Deodorant—Use it!; AIDS: BIG Problem."
Shteyngart was undergoing an education of his own. He had taken writing classes at Oberlin, and by the time he graduated he had written two thirds of The Russian Debutante's Handbook, his wry, extraordinarily funny satire of Russians, Jews and Prague's expatriate bohemians. Five years later, he decided to get an MFA—in his words, "I wanted two more years of partying."
"I was kind of apprehensive about what that pile of applications might look like in terms of quantity and quality," novelist Chang-rae Lee told me by phone from Princeton, where he now teaches. "When I came across his application I just stopped and I forgot what I was doing. Most of the time, when you're reading applications, you're obviously reading, but you're also in survival mode." But this wasn't like that. By the time Shteyngart entered the MFA program in 2000, he had a deal to publish Debutante through Riverhead, Lee's publisher.
Debutante is the story of 25-year-old Vladimir Girshkin, who, seven years out of an elite math-and-science high school and three years out of a Midwestern college, half-works (full-time, part-effort) at the Emma Lazarus Immigration Absorption Society. But just when you think you're in perilous roman à clef territory, you encounter Russian mafiosi, a gay Catalan drug lord and the confusing, tragic city of Prague, in all its mid-1990s poverty and decadence. The Russian Debutante's Handbook eventually became known as a hilarious and overheated novel, though not everyone initially saw it like that.
"The MFA workshop in some ways I don't think was very helpful to him," Chang-rae Lee told me very diplomatically. "His book at that point was far ahead of any workshopping." Shteyngart put it more directly: "I wasn't allowed to tell people I had a book deal. So the critique was like, 'Oh my god, this is terrible; it's too clever by half.'"
Debutante was published in June 2002, soon after Shteyngart received his MFA. The book received extraordinary exposure—reviews by Michiko Kakutani in the Times and A. O. Scott in the Sunday Times, and pages of lavish praise from everywhere and everyone, comparing the 30-year-old to Bellow, Martin Amis, Nabokov, Malamud, and Henry Roth. Suddenly, Shteyngart (who says he "could have published it a long time before I did, but I was so ashamed of writing about the Russian experience"), the failed charity worker, the scourge of MFA students—well, he was a writer.
Gary Shteyngart lives on the seventh floor of a massive co-op building in the oldest, strangest part of the Lower East Side. It's a 10-minute walk to the closest subway, and there's a feeling of slowness, of tentativeness, as you walk toward the East River from the East Broadway stop on the F—as if this little outcrop of lower Manhattan is slowly emerging from the recesses of your memory. Orthodox Jewish boys hang out on playgrounds dwarfed by hulking red brick towers named after union leaders (Shteyngart's building was financed by the International Ladies' Garment Workers' Union in the early 1950s), Puerto Rican kids play handball on half-empty courts, and the gentle slope of the Williamsburg Bridge looms over everything in sight, its white noise steady and oddly calm.
Shteyngart's apartment is bright, clean, sparse and gently peppered with art. His bookshelves are stocked with new fiction (much of which he has generously blurbed) and weighty non-fiction books like Lawrence Wright's The Looming Tower and Tim Weiner's Legacy of Ashes. (Shteyngart has never shied away from being seen as a political novelist, and he reads widely and travels extensively, largely thanks to his gig as contributing editor for Travel + Leisure, for which he writes irreverent travelogues about Azerbaijan, Bangkok and Rome, among many other envious assignments.)
Misha Vainberg, narrator of Absurdistan, also has a fondness for brutalism; the 325 pound Russian says that it's his "Stalinist gigantamania" that leads him to love New York's Twin Towers, which "looked to me like the promise of socialist realism fulfilled, boyhood science fiction extended into near-infinity." From Shteyngart's balcony, you could be looking out onto a very clean Soviet city, which suits him just fine.
"He might have chosen his neighborhood with [Super Sad] in mind," Shteyngart's friend, the novelist John Wray, told me. As Shteyngart and I walked to Chinatown for back-to-back pork-filled dinners, he told me about the depressing onslaught of death notices for senior citizens—the building's original tenants—that he's seen posted by the elevators over the last few years.
Shteyngart is a writer chronically incapable of telling stories that do not refract his immediate context and his concerns, so it makes sense that this neighborhood, with its dying neighbors, unassuming diversity and past-tense futurism would create and permeate Super Sad True Love Story. "Gary was definitely sort of inhabiting," Wray says. "Projecting the fictional world of his novel onto the place where he lived and the way that he lived while he was writing it."
Others Tagged With