Sister Act 2: Lilith Fair is Back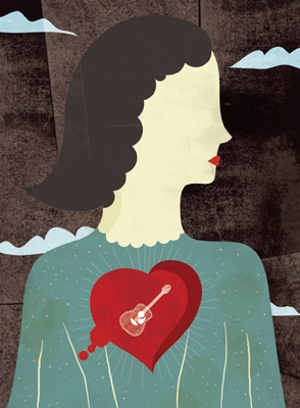 Page 1 of 2
After this story, which appears in our June/July 2010 issue, went to press, numerous Lilith dates were canceled, as well as, most recently, the Atlanta show scheduled for Aug. 8. The remaining dates wrap up in Washington D.C. on August 3.
When Lilith Fair—Sarah McLachlan's all-woman music festival, which toured the U.S. in the balmiest months of 1997-1999—announced a revival tour, a comeback scheduled to trek across North America this summer, my best friend and I squealed with delight and immediately made plans to go. But first, a confession: I didn't attend Lilith the first time around. My adolescence had been spent going to Bikini Kill and L7 concerts, so the folky music of the Lilith roster struck me as too self-consciously feminine, the sense of community too contrived. So what happened—in music, feminism, and politics—in the ensuing 11 years that made the festival's return seem not only necessary, but kind of cool?
Since Lilith last made its rounds across the country, I watched as the Pussycat Dolls, Paris Hilton and Jessica Simpson dominated not just the charts, but the totality of pop culture. It was enough to make me nostalgic for Lilith's mild-mannered feminism without having ever attended. Maybe I'd missed something the first time around.
Lilith Fair was created after concert promoters told McLachlan they wouldn't book two women on the same bill, she tells me just after finishing up her latest album, The Laws of Illusion. At that time, there were only a few women playing at traveling alterna-fest Lollapalooza, and the supermacho Ozzfest, H.O.R.D.E. and Warped tours were raking in millions a year in ticket sales, marketing themselves to teenage boys. The 1999 Woodstock anniversary concert, which featured performances by the Red Hot Chili Peppers and Limp Bizkit—both a far cry from the peacenik crowd of the 1969 version—was marred by reports of several rapes, with at least one gang rape allegedly taking place in the mosh pit, near the front of the stage. Music festivals were inhospitable places for women (both as band members and fans), and Lilith arose as an alternative. "They said no one would come, which is so ridiculous and insulting," McLachlan says. "I had a desire to prove them wrong."
McLachlan booked the inaugural Lilith in 1997 with a handpicked roster heavy on confessional singer-songwriters (Fiona Apple, Shawn Colvin, Paula Cole, Lisa Loeb, Jewel, Suzanne Vega). Besides music, the festival focuses on activism through its emphasis on feminist charities ($1 from each ticket sold benefited a local women's organization) and activity booths, where organizations could distribute information on their causes. "Lilith showcased women's music that was not solely predicated on sexual display on stage," says writer and University of Michigan communications professor Susan J. Douglas, whose latest book, Enlightened Sexism, examines pop culture and feminism over the last two decades. "These were women who were respected as singers and songwriters, who were thinking, creative subjects who had things to say rather than be objects to look at."
Lilith was a commercial success: The first Lilith tour earned $16 million, making it that year's highest-grossing touring festival. And more importantly, the festival created one of the few women-only (or perhaps more accurately, women-centric, since men were definitely allowed to come and get their folk on) spaces in the late-90s mainstream. Radicals, riot grrrls and women from various subcultures—in other words, people like me—had access to such separatist women-only spaces, and had benefited from the experience of life without men, whether that meant speaking more freely, carrying oneself differently, feeling a sense of safety, or escaping sexual commodification. But most women rarely had these opportunities, and McLachlan offered them a version of collective feminist activity that was missing from the mainstream pop culture of the time. "I really love the idea of a woman-only space. It's really an old punk idea, but Lilith introduced people like me, who grew up in small town America, pre-Internet, to concepts like that," says Gossip's Beth Ditto, who didn't go to Lilith Fair while growing up in Arkansas, but will be playing on the tour this summer.
"I think if I had gone to Lilith while I was in high school, it would've changed my entire world," says Laneia Jones, the executive editor at Autostraddle.com, an online community for lesbian and bisexual women. Like me, Jones felt she was "too awesome" for Sarah McLachlan and company during Lilith's maiden voyage. But in retrospect, she thinks that going would have done her some good. "I lived in a rural town and felt constantly trapped by it. None of my friends were like me, so I just always left out. Instead of embracing the weird, I hid it and pretended to fit in. I think going to Lilith would've shown me that I wasn't alone."
Lilith's strong point—its focus on gender—was also one of its weak points. Centering on female performers was gutsy, but it didn't necessarily make for a good music festival. Salon writer Carlene Bauer dismissed the Lilith aesthetic for its homogenous, hippieish, "Massengill-meets-Celestial Seasonings" vibe, which sums how a lot of women viewed the festival. My friend Sheri Hood, who managed bands like Stereolab during the Lilith era, likens the scene to a guilty pleasure: "Lilith bands are the musical equivalent of chick flicks. You might indulge in it, but it's not really where you want to be." Lilith's appeal was too broad for women (like my teenage self) who considered themselves serious music fans.
Lilith was a direct descendent of "women's music," a genre that included singers like Holly Near and Cris Williamson, known for being earnest and folky, and was more closely aligned to 1970s-style Second Wave feminism. The 1990s heralded the arrival of feminism's Third Wave, which, in turn, brought with it a celebration of the more joyous side of girlhood and modern marriages of feminism and music—less "I Am Woman" and more "Rebel Girl." Take, for example, the Portland trio Sleater-Kinney (currently on extended hiatus), who turned down an offer to play at Lilith. "We discussed it at the time, and ultimately decided against it," says Sleater-Kinney singer/guitarist Corin Tucker. "Our band was really from the punk-rock tradition of playing small clubs, all-ages venues, and keeping ticket prices low." But their problem with Lilith ended being one of aesthetics: Their dueling guitars and shouted lyrics were a far cry from the gentle balladry of McLachlan and company. "To be honest," Tucker said, "I don't think the lineup really fit our musical taste."
Being the sole mainstream music festival tasked with representing 50% of the population had its own burdens, and there was plenty of room for criticism. Lilith organizers made efforts to have some measure of diversity in the lineup, both in race and sound, particularly in its second and third years as Missy Elliott, Cibo Matto and Erykah Badu signed up. A more diverse lineup made Lilith's latter years feel a little less one-note, but it also meant that all the artists were less united. Many weren't already acquainted, as the original performers had been, and the ones who met while on tour didn't necessarily relate to women's music, or to one another. As time went on there were fewer all-girl jam sessions. "Because it was more successful, they had to be more self-conscious after the first year," remembers Jennifer Baumgardner, a writer and activist who was dating Indigo Girl Amy Ray at the time and traveled with her to 10 or so Lilith Fair shows. "They went out of their way to get Missy and Erykah. They were outreached to, but if you want to have a truly diverse lineup, you start up that way, with a diverse group of organizers."
Others Tagged With