Ted Leo Addresses Retirement Rumors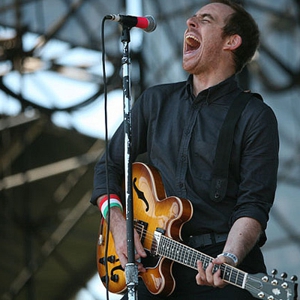 Responding to a recent Buzzgrinder article that insinuated he would be retiring, Ted Leo has posted a letter on his band's website insisting that he will continue to make music, but will do so "in some other way."
"Doing this as a full-time thing, as wonderful as it is, has been a losing proposition for us for a while now," the veteran rocker writes. "The crowds, while amazing, are mostly diminishing, the record sales, while appreciated, are a pretty weak percentage of what they were during the brief two year window in which we actually seemed to crack some sort of indie glass ceiling and make all ends meet and have a little left over to boot…"
Leo is looking for a way to continue making music next year without relying on "other income streams that everyone likes to point to" such as licensing songs for commercial use and jacking up the prices of CD's and band merchandise. "We keep our CD, LP, and t-shirt prices at $10.00 a piece," he says.
Having released The Brutalist Bricks with the Pharmacists earlier this year, he and the rest of the band will be on the road through mid-October. Leo says this touring schedule, which the band has "been keeping up for the last nearly twenty years," is becoming somewhat tiresome as "the energy we have inside us is not as boundless as it once seemed, and the amount we have to expend each year becomes more and more of a drain for less and less pay off."
He is quick to point out that his response is in no way a complaint, adding "anyone who's seen us play in the last few months knows that we're having as good a time doing it as we ever have, and from my side of things, I can tell you that we're actually having MORE fun most of the time – but I've decided to be honest with interviewers who ask me about 'the state of things,' because what's the point in sugar coating the realities?"
Right now, Leo doesn't know what the changes he and the rest of his band are considering look like, but he is realizing he doesn't want "to wake up turning 50, and have to just be starting this conversation then."
Got news tips for Paste? Email news@pastemagazine.com.
Others Tagged With