Happy 50th Birthday, The Twist!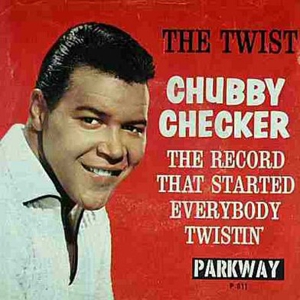 These days, dance crazes don't have a lot of staying power. We lean with it one day and rock with it the next. We walk it out today and wipe it down tomorrow. And by the time we figure out what in the world a "Stanky Leg" is, everyone else is already "Swag Surfing." But it hasn't always been this way.
Recently, South Philly native Chubby Checker and several hundred fans gathered in the center of the City of Brotherly Love to celebrate the 50th anniversary of America's first and longest-lasting dance craze: "The Twist."
Written and originally recorded by R&B singer Hank Ballard, "The Twist" was made famous by a younger, more clean-cut Chubby Checker, who debuted his cover on the radio in July of 1960 and on the television in August. During his televised performance on The Dick Clark Show, Checker introduced American youth to a dance he thought accompanied his song nicely. It required no partner, but plenty of (insert gasp from horrified parents) hip movement.
"Take me by my little hand," he sang with a sly smile slung across his face, "and go like this." Then, he put one foot in front of the other, lowered his center of gravity, and got to twistin'.
A month later, "The Twist" took the number one spot on Billboard's Hot 100. People everywhere were twisting, so much so that by the next summer, the craze still had enough gas in the tank to allow Checker another hit, aptly titled, "Let's Twist Again." And they did, even harder than they had before. This time, the old folks joined in, prompted by famous faces like First Lady Jackie Kennedy, who the press caught twisting (and loving it) at Manhattan's celebrity hot spot The Peppermint Lounge (where frequent twisters convinced the house band to pen their own craze-inspired tune: "The Peppermint Twist").
Older generations caught the twist wave just as it was waning, so they had no other choice but to churn up another. In the summer of 1962, "The Twist" once again hit number one on Billboard, marking the only time to date that a song has reached the top spot on two separate occasions. And the phenomenon didn't end there.
Over the next few years, around a dozen tunes with "twist" in the title charted, including Sam Cooke's "Twistin' the Night Away," and The Beatles' "Twist and Shout." All in all, twisting ruled the dance floor for three straight years.
At 50 years old, "The Twist" is undoubtedly a grandfather of a dance craze, but it's still relevant, maybe even more so than the fleeting moves of modern music. It's simple, but saucy, and with one golden anniversary under it's belt, it seems to be just as fun today as it was back in 1960. At least that's what Chubby and company made it look like recently.
Check out a video from the performance below:
Got news tips for Paste? Email news@pastemagazine.com.
Others Tagged With