U.S. Government Takes Down Nine Pirating Sites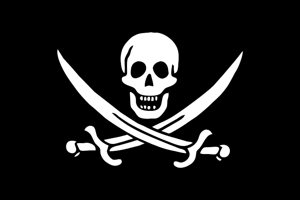 The federal government has launched the cannons of copyright crackdown on a number of pirating websites in the first move of the recently-announced Plan to Combat Intellectual Property Theft.
Sure, that metaphor's overused, but it's true: the Los Angeles Times reports that nine websites bit the dust to federal authorities, who seized domain names for participating in "criminal theft of American movies and television." Among the websites seized are TVShack.net, PlanetMoviez.com, ThePirateCity.org and Ninjavideo.net.
The effort involved 100 agents working in 11 states and the Netherlands and was part of a campaign called "Operation in Our Sites" specifically aimed at curbing Internet piracy.
The sites were targeted for their size (millions of visitors per month) and the rate at which they pirated movies and shows; some reportedly had copies of Toy Story 3 and Iron Man 2 mere hours after theatrical release. They mostly gained revenue from ads and soliciting donations from users. "It's smash and grab, no different than a guy walking down Fifth Avenue and smashing the window at Tiffany's and reaching in and grabbing what's in the window," Vice President Joe Biden said in a statement issued when the plan was announced last week.
The Internet is no stranger to piracy and efforts to curb practices have been sporadic and usually ineffective. Recent crackdowns include a routing of users of the popular file-sharing program BitTorrent; other previously-notorious filesharing programs are trying to eke out a place in the legal file-sharing world.
These websites often have sprawling communities of users rather than being anonymous one-click access. In a podcast manifesto, a part of the Ninja Video administration/moderation team said, "Instead of sending a takedown notice, how about sending an introductory letter? Conference with us about what the evolution of this game should be about, because I assure you – whether or not you ever take NinjaVideo down, there will be more of us. This game can't be stopped: so how about it's understood?"
CNBC reported that "Operation In Our Sites" was announced by U.S. Immigration and Customs Enforcement and the U.S. Attorney for the Southern District of New York on Wednesday and promises to be an ongoing effort.
Got news tips for Paste? Email news@pastemagazine.com.