William Faulkner Lectures Get Digitized for the Internet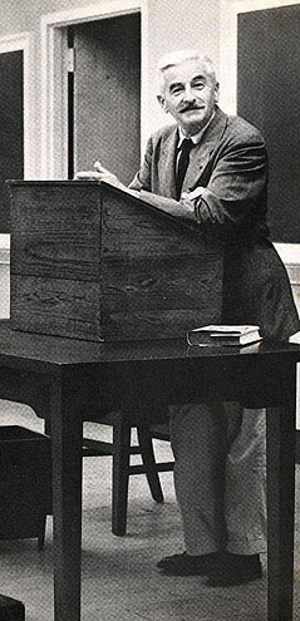 Prolific, legendary and no-doubt verbose writer William Faulkner would likely have had a hard time adjusting to abbreviated forms of social media like Twitter. But his work has managed to find a new life on theiInternet, through the newly digitized and streamable audio files of his lectures at University of Virginia, where he served as Writer-in-Residence in 1957 and 1958.
Over the course of those two years, Faulkner spoke at 36 different public events, answering over 1,400 questions from audience members, according to the UVA collection. His speeches were recorded on a reel-to-reel tape recorder, carried most often by two members of the English department, Frederick Gwynn and Joseph Blotner. Thanks to Gwynn and Blotner, we now have access to over 28 hours of Faulkner's lovely Southern drawl. In the collection, Faulkner answers questions from students and local citizens about his own works, offers his thoughtful view on the Brown v. Board decision, and meditates on the need for solutions in a country ravaged by racial divides.
The collection was curated by professor Stephen Railton, a mover and shaker in the academic world of digitizing history. Railton has also assembled an electronic archive of Mark Twain's work and life as well as a multimedia archive on Uncle Tom's Cabin.
The Faulkner Collection at the university also features a massive collection of photos and essays from Faulkner's time there. You can stream the audio recordings and view the collection here.
Got news tips for Paste? Email news@pastemagazine.com.
Others Tagged With