Best of What's Next: Mean Creek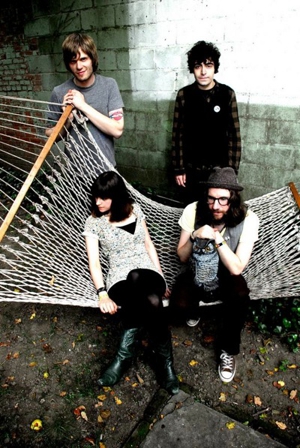 Hometown: Boston, Mass.
Album: The Sky (Or the Underground)
Members: Chris Keene (vocals, guitar), Aurore Ounjian (vocals, guitar, harmonica), Erik Wormwood (bass), Mikey Holland (drums, percussion)
For Fans Of: My Morning Jacket, Them Crooked Vultures, Heartless Bastards
Growing up in Watertown, Mass., just west of Boston, Chris Keene and Aurore Ounjian always hoped the folk sensibilities they nurtured in high school would someday evolve into something meatier. After playing for a while as an acoustic duo called Chris & Aurore, "we realized that we wanted to play in a rock band," Keene says, "to play loud if we wanted to and play quiet if we wanted to." And so the more distortion-heavy, anthemic-rock quartet Mean Creek was born.
Keene and Ounjian released the band's debut, Around the Bend in the fall of 2007, and drummer Mikey Holland and bassist Erik Wormwood (former members of the Boston grunge outfit Tulsa) joined up in time for their sophomore effort, 2009's The Sky (Or the Underground). Now, Keene says he can't imagine it any other way. "We've just become more and more of a cohesive band where everyone is contributing to the songs and making them what they are," he says.
The foursome has spent the last month writing songs for the follow-up to their recently released 7-inch single, "The Comedian." The untitled album will be recorded in November with producer John Agnello (The Hold Steady, Dinosaur Jr.), who also worked on "The Comedian" and its B-side "Liar/Thief." Keene says Agnello helped the band harness the raw energy that defines their live performances and hopes the forthcoming record will have a similar classic-rock meets bluesy-grunge feel.
Working with a well-known producer is likely to raise their profile beyond their hometown, where The Boston Phoenix heralded them as the "best local band" earlier this year, but Keene doesn't seem nervous. "You can't control who's gonna hear [your music] or if people are gonna like it or if it will be successful," he says. "All you can really do is … make the best music you can and be happy about it and have fun with it and fun with the people you're making it with. That's the main reason to play and if that's not right, then I feel like it's a waste of time."
Others Tagged With