Catching Up With... Corin Tucker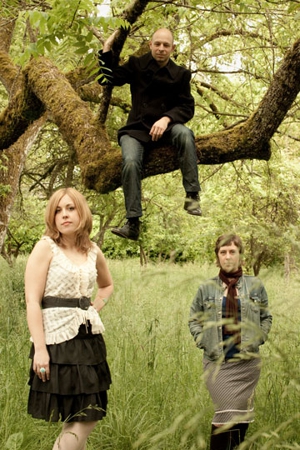 In the four years since seminal all-girl rock outfit Sleater-Kinney announced it was going on hiatus, bassist/singer Carrie Brownstein busied herself blogging for NPR and scattered film work, and Janet Weiss continued her work with the duo Quasi while also drumming for Stephen Malkmus' The Jicks. But the trio's loudest voice mostly remained silent, with singer/guitarist Corin Tucker shelving her musical efforts to concentrate on raising her two children. Now, though, she's assembled a new project, The Corin Tucker Band, which will release its self-titled debut on Oct. 5 via Kill Rock Stars. Rounded out by guitarist Seth Lorinczi of The Golden Bears and former Unwound drummer Sara Lund, the band often plays more softly than Tucker's former group, and the record feels settled and mature, but singed with melancholy and wistfulness. Tucker took a rare break away to sit down for a hearty brunch and talk to Paste about her new bandmates, living up to the expectations of Sleater-Kinney fans and how Twilight kinda-sorta inspired her new record.
Paste: The first song on the new album, "1000 Years," if I'm interpreting it correctly, is about tapping into your creative side after being away from music for a few years. Am I reading that right?
Corin Tucker: It is. It's about a couple different things at once. That song and "Miles Away" I had pitched for the New Moon soundtrack. I was really big fan of those books [the Twilight series] and that one was right at the beginning of the second book—let me just break down the story for you (laughs)—is when Edward leaves Bella. She's completely depressed and in a very dark place. So that song is specifically about that part of the book. But, I had all these demos and I played them all for Seth and [said], "I've got these vampire songs, but I don't know, maybe we should just skip those?" He said, "No, no, no, those are good songs." So, for "1000 Years", I changed one or two of the lyrics and made it more about myself. I think that to me was this really interesting starting point to write. I hadn't written that much after Sleater-Kinney went on hiatus. But, suddenly I got this e-mail that said, "Hey, I'm going to pitch for this movie, I'd love to get songs from people." And I had to think, "If I was writing for this movie, what would I write?" That was a jumping off point for me but I definitely felt like there was this creative loss in my life and not having it there and having it again—I missed having that.
Paste: Did getting those first few songs written open up the floodgates?
Tucker: In a way it did. I started writing more and writing a lot of different things until I was able to sift through to find what would make sense to put onto the record.
Paste: Having two kids to help take care of, how would you find time to write?
Tucker: Sometimes I would make dinner and get everyone fed, and then say, "Okay, I'm going to work on my music now. It's 7:30 and I am off the clock, I'm going to go down and work on my songs."
Paste: Was there ever a point after Sleater-Kinney went on hiatus that you thought you were going to put your creative life on the shelf until you started playing with the band again?
Tucker: I was kind of like—I needed a break from that in general. I felt really burnt out at the end. But when I had my daughter, I did think, "This is like my thing now." Having a baby is an all-consuming thing. But I think as an outlet in my life, there is nothing that equals writing music and having people like my music. I think I did want to eventually make a record. It was just the logistics of how I would do that and be a stay-at-home mom too that took a while to work out.
Paste: How were you able to work that out?
Tucker: Seth and I worked in the mornings. On days that our girls were in preschool or playgroup, I would call him up and say, "Okay, it's 9:30. I'm coming over." And we'd get going through the songs and working out production ideas. That took a while before we actually started tracking. When we did, we finally got Sara on board, and she was, like, "Really?" And I said, "Yes, you really need to be here around 10:30." (Laughs) It would all end by 12:15 or 12:30 p.m. Seth did want me to mention that we had a really cool night session. His wife and baby took off for a few days, so we would record in the evening. We took over the whole house. Seth had microphones in the stairways so Sara did some fills on the banister on "Half A World Away." That was our moment to realize, "Oh God, we really love this!"
Paste: How did you end up working with Seth?
Tucker: I've known Seth for a long time. He comes from the DC punk scene—he was in Circus Lupus. One of his bands, The Quails, toured with Sleater-Kinney for the One Beat record. And we ended up playing a benefit together and playing in Blue Giant [the supergroup-ish side project of Viva Voce's Kevin and Anita Robinson] together. Kevin had this idea that people would bring in a couple of songs and they'd play them as guests. I brought in a couple of songs and noticed right away that Seth was arranging them with a very skilled hand. We have a lot of shared musical history and influences that are same, but seeing him work on those songs, a light bulb went off and I thought, "I could make a record with him."
Paste: You've likely known Sara from the Olympia music scene, but was there something special in her playing that made you think to include her in the band?
Tucker: She's been playing recently in Hungry Ghost, and it was suddenly seeing her in this other context where she was bringing a lot of different stuff to the table. Her playing has a very roots-y, Jon Spencer blues feel, which is totally different than Unwound. She just seemed to be in a different place musically that was very interesting to me. And she also has a young kid, so I thought she could get into our scene of dorkily recording in the mornings.
Paste: The song "Thrift Store Coats" on the new album really stands out for me. What can you tell me about that one?
Tucker: Living in Portland and having a community of other parents as friends, it was intense going through the recession with them—"Oh, so-and-so lost his job" and "So-and-so has been out of work for months." I would have these conversations with Lance [Bangs, Tucker's husband] wondering how these families are getting by with neither of them working. It was just this domino effect and it was really big event in my life and the lives of the people around me.
Paste: You're also releasing a new album not only into a recession but a music industry that is going through a lot of changes. How does that feel?
Tucker: (Laughs) It's awful. It's insane. I'm laughing because we are taking such a huge risk in making this record. With the financial state of things, I have to have a sense of humor about this. It's just not making sense. The people that sell a bunch of records and are independent musicians are so few. Even the people that are successful—when you actually tour, the production costs are crazy. It's not simple anymore. I'm so nail-biting actually doing this. Even the business aspect of it for Sleater-Kinney became much more complicated and difficult as the music industry changed and our situation changed. We weren't driving around in a van and all sleeping on someone's floor anymore. It changed our ability for us to make a decent living. We were so fortunate in the '90s, that this thing that we loved to do became an actual viable career. We sold a lot of actual physical CDs when people used to buy those and we worked really hard at it. That really changed with the MP3. It's still really different now. I don't know what's going to happen.
Paste: Is it a concern at all what Sleater-Kinney fans are going to make of the new album?
Tucker: I don't know. I hope they'll like it. But it's definitely daunting to make a record after being in this incredible band. And Janet and Carrie are incredible talents and it was such a collaborative thing. It's weird to be making a record that has my name on it and I'm responsible for. That was why it took me a while to say, "OK, I really need to do this. You have to bite the bullet and do it." But I couldn't go into making a record that would be, like, "Oh, the Sleater Kinney fans will like this one!" That would just be shooting yourself in the foot. I had an idea of wanting to do something different. It had to be different to make sense to me and for me to challenge myself.
Paste: You and Carrie have both been adamant that Sleater-Kinney is just on a hiatus. Do you think it's inevitable that you'll work together again?
Tucker: I really hope so. I don't take it for granted and say that it's inevitable. I'll just say for myself that I hope that it happens. I think we've got a fair amount of logistical stuff for that to work through for that to happen, but—yeah.
Others Tagged With