High Definition: Will Ferrell & Adam McKay's Big Lake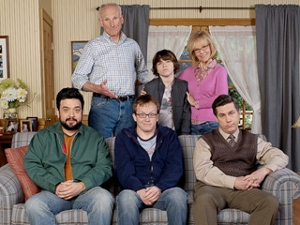 What happens when Will Ferrell and Adam McKay—co-writers of comedies like Step Brothers, Anchorman and Talladega Nights—create a good ol'-fashioned, multi-camera, laugh-tracked, sit-com? Strange things, of course.
At first, I thought the laugh track and sit-com conventions were ruining the gags. There's no sound so gratingly phony to me anymore than hearing canned laughter after every other line of dialogue. But the more I watched, the more I began to suspect that all the old sit-com cliches that were bugging me were the gags.
That became clear when Josh (Chris Gethard), a disgraced banker has returned home after causing financial ruin for many, including his father Carl (James Rebhorn). "It's good to be home," muses Josh. "F— you," his dad deadpans to the generic laughter of the invisible audience.
It's this discordant gimmick—uncomfortable humor set in the cozy confines of the mainstream American sitcom—that makes Big Lake worth checking out. It's Comedy Central's twisted whimsy disguised as broad CBS family entertainment. Funny People did this with Jason Schwartzman's fake sitcom Yo, Teach!, but that was making fun of dumb sitcoms from the outside. Big Lake does it from within.
The stock characters, Josh's loser friend Glenn (Horatio Sanz), his cynical old high-school teacher Mr. Henkel (Chris Parnell) and his dysfunctional family are all just a little more twisted than what you find on network TV. Glenn did some time in jail, and 13-year-old brother Jeremy (Dylan Blue) is a gun-toting drug dealer who quotes Camus and fakes a lisp for his mom, who's constantly high on diet pills.
But over the course of a full season, will the laugh track and sit-com tropes wear thin like a Saturday Night Live sketch that's gone on too long? At least through the first two episodes, Ferrell and McKay give the fake audience plenty to laugh at, even if the laughter is all wrong.
Others Tagged With