Texts, Tweets and Rock 'n' Roll: How Social Media Saved the Sunset Strip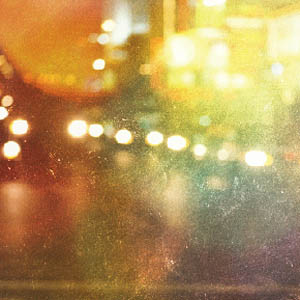 It's past midnight on a Saturday, and Hollywood's Sunset Strip is bustling. Neon signs buzz above the street, honoring its flashy legacy. Outside The Roxy Theatre, clusters of teens wielding cell phones and lip gloss mingle amidst black-clad rockers. More than 500 people are jammed inside the cavernous venue, which in the mid 1980s showcased acts like Jane's Addiction and Guns N' Roses. Tonight, the club hosts the second annual Zombie Prom, featuring up-and-coming rock quartet Saint Motel. After word of the show blasted across cyberspace to the Roxy's more than 27,000 Twitter followers, it sold out before the doors opened.
"I saw her tweets," says a guy named The Hawk, nodding at the woman standing next to him. "And she saw mine." The Hawk is a lanky character with blue-black hair and a patch over his right eye, a Strip regular who co-hosts the weekly Ustream show "The Real Sunset Strip," filmed every Saturday from the heart of the scene.
"We both checked in on Foursquare," he continues, "So I knew she was here."
"She" goes by @absolut420jen, a 32-year-old self-proclaimed "Sunset Stripper" who does the office by day and the Strip by night.
Strip regulars often refer to each other by their Twitter handles—a habit more Silicon than Sunset. "It's really nerdy," admits Roxy owner Nic Adler. But it makes sense. Once a repository for spandex-clad metal bands and rock 'n' roll debauchery, the Strip has now embraced its inner geek.
Sunset Boulevard is just a street, a corridor leading travelers from Los Angeles' grittier East Side toward the ocean. But the Sunset Strip—a 1.6-mile stretch of that street, book-ended by the Chateau 
Marmont and Doheny Drive—has long been more than a road. It's an idea, one that has revolved around velvet-roped 
exclusivity since its '70s and '80s heyday. The Strip was home to some of America's most storied clubs and venues—The Roxy, Whisky A Go-Go, The Comedy Store and The Viper Room—which, enamored by their own mystique, shuttered their doors to throngs of would-be customers (and also to each other). Eventually, people got sick of 
being shut out, so L.A.'s rock scene moved east to more inviting neighborhoods. And the Strip watched in the mid-2000s as its significance shrank. "I was reading these web sites and blog posts that were saying, 'Oh my god, Echo Park and Silver Lake are amazing,' and then there was nothing about the Sunset Strip," Adler says. "We were basically losing ground."
And so, a year ago, Adler did the unthinkable: He teamed up with his rival venues, shook off the Strip's old-school reputation and reached out to a new generation of customers using social-networking technology. Clubs up and down the street have partnered to form the "The Social Strip"—a nod to their new way of doing business by tweets, tumbls and texts. Their online arsenal has expanded from twitter posts to Ustream shows, an upcoming Sunset Strip iPhone app, and their Tweet Crawl events—a classic bar crawl gone digital. "Technology is our tool belt," explains Nathan Levinson, marketing director at the Viper Room, the rock mecca that Johnny Depp once owned. "It's the philosophy that is important. The approach you take with the tools—how you use them."
The cyber strategy works. Attendance at the Viper Room and Roxy is up about 30 percent, clubs have diversified their booking beyond macho rock, and an eclectic new scene is beginning to overshadow the tired image from the past.
"We want to let people know that we are an epicenter of laughter and music in Los Angeles," Levinson says. "It never went away—we're still here. We just needed to remind people."
Others Tagged With