Best of What's Next: Frankie Rose & The Outs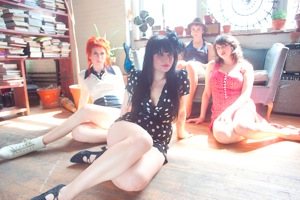 Frankie Rose has definitely paid her dues. She was the songwriter and drummer behind "Where Do You Run To?" on the Vivian Girls' self-titled debut. After leaving the band, she played for Crystal Stilts. And when she left Crystal Stilts, she started drumming for Dum Dum Girls. Finally, her debut album with her band Frankie Rose & The Outs is being released on Sept. 21 through Slumberland Records. The atmospheric, dreamy record, recorded last winter, features Rose on guitar/drums/vocals, Caroline Yes on bass, Margot Bianca on guitar, and Kate Ryan on drums. And now, with her own band, she's doing what she wants. Paste talked to Rose about the beginning of the Outs, the new album, and Rose's new invention: party tours.
Paste: You released the "Thee Only One" single late last year. Did you record that before you had your current band?
Frankie Rose: Yeah. Actually, the Crystal Stilts backed me up on that one, so that was pretty cool.
Paste: Yeah, I was actually wondering about that. I was wondering when you actually assembled your current band.
Rose: It was sort of a slow start. It started as just the drummer with Kate Ryan, and we were playing together for a while before everyone else came into the picture. So I guess it was right after that single came out.
Paste: And for a while there, you had the Outs together while you were still in the Dum Dum Girls, right?
Rose: Yeah, I totally did. That was sort of all simultaneous because Dum Dum Girls were existing—we were, at the time, all over. One of us was in Austin, I was [in Brooklyn], so we were all spread out. It was pretty easy for me to stay here and practice while that was going on.
Paste: Is it hard to go on tour?
Rose: Yeah, for me. I'm doing a new experiment with the band which is party touring, which is basically where we do about two weeks in a really fun place and then we come home.
Paste: So how are you kicking off that experiment.
Rose: We're going to California. Just California for one week with a day off.
Paste: Are you playing with Hunx & His Punx?
Rose: We are. I think I'm going to be playing drums part of the time in Hunx, so that should be pretty hilarious.
Paste: They're a great band.
Rose: I love Seth, so it was really funny, because I think one of their drummers can't make it for one of the shows.
Paste: So where else do you want this party tour thing to take you?
Rose: We'll go anywhere. I want to go to the South really bad. I want to do a Southern tour—probably because it's really cold here. Caroline, our lead singer, is from Chapel Hill, so…I don't know. Maybe just do a down South trip and go to New Orleans or something. We're just avoiding any long drives. We don't have to do arduous drives that make no one happy, you know?
Paste: You were in Dum Dum Girls this year and then you left. What made you decide it was time to leave the Dum Dum Girls?
Rose: Well it was literally impossible. I've tried this before. It leads to major problems. I've experienced this where you try and be in two bands at the same time that are real functioning bands. It's completely impossible. And we already knew. When I played that first show with her, we already knew that I was going to be in the band, but only as long as I could do it without it getting in the way of my own band. And then things really took off pretty fast for Dum Dum Girls, and it became clear that I would completely have to stop making my own music if I wanted to be in that band. I mean they're on tour 90% of the time right now.
Paste: Yeah, they're on tour with Vampire Weekend right now, and then The Vaselines in a month.
Rose: Yeah, that's not on my agenda at all.
Paste: It sounds pretty hectic. How does it feel now to have your own band and do stuff on your schedule?
Rose: I'm so happy. It's great. It's really great. The ladies in my band, they're so awesome. They're so supportive, and by no means am I totally leading the ship or anything. We all make decisions about how much we want to do something or not do something. Yeah, we all just want to keep it mellow. But it's great to be playing my own music and play guitar—it's what I've wanted to do for so long.
Paste: Let's talk about the new record. Was there a specific feel you wanted to get from the album?
Rose: Yeah, I wanted it to be a fairly moody record. I wanted it to be more dreamy—more spacey.
Paste: It definitely comes across that way—especially on "Lullabye for Roads and Miles".
Rose: That's a heartbreaker. [laughs] That's a heartbreak song.
Paste: Do you have any plans for the year?
Rose: I haven't thought past November. We're going to Europe in November. We're going to Primavera for their winter festival. And then I'm hoping to start recording an EP for Sacred Bones that we're going to be putting out, and then I really don't have much past that.