Dent May Talks New Album, Tab Cola, Covering Creed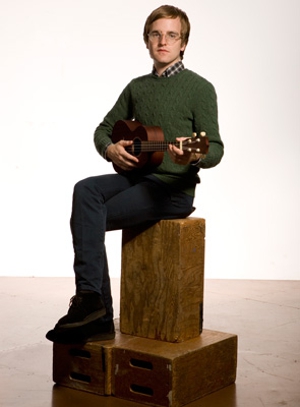 Imagine if Jonathan Richman decided to start wearing lacy ascots and worked a side job as a canoe-adventure tour guide on a placid Brazilian lake. In this scenario, the former Modern Lover hails from Jackson, Miss., and alternates tuning his ukulele with an old Hawaiian adage and an iPhone application. He DJs, dabbles in multiple side projects and has caught the attention of Animal Collective. Ladies and gentlemen, meet Dent May.
May, who currently resides in Taylor, Miss. and on Animal Collective's Paw Tracks label, has gained praise from many adoring his lo-fi, magnificent-ukulele-led tropicalia.
Although May's loungey, syrup-soaked vocal delivery and simple strumming earns him a lot of comparisons to Jens Lekman and Magnetic Fields frontman Stephin Merritt, he says his new idol now calls Key West home. May's newfound Jimmy Buffett affinity was born at his cousin's recent wedding on a South Carolina beach. "The invitation said, 'Wear casual clothes. A polo shirt or a Hawaiian shirt,'" he tells Paste. "Yeah, I'm about to get into his stuff, I think. And we'll see what happens. I just admire that he has this crazy following that's into this whole empire—his whole shtick. Jimmy Buffett's been working on the whole Margaritaville thing, so I don't know what my angle's going to be. Maybe there will be a Dent May park and restaurant and clothing line as well. Who knows?"
"I'm an Alcoholic," from May's debut, The Good Feeling Music of Dent May and His Magnificent Ukulele, holds the listener's drunken hand like a friendly regular at the local watering hole. Lines like, "Lately I've been drinking every night / I'm over being sobe r/ I'm an alcoholic / I think I'll get drunk tonight," point to a winking commonality between May and the Margaritaville songwriter.
"There's definitely a party vibe to my stuff," May says. "Booze, dancing and party fun. That's what I'm into and what I want my music to kind of represent—like a cheesy cocktail bar."
Speaking of beverages, remember Tab cola? May does. In fact, it's been a highlight of his recent imbibing. "I'm a big fan of Maker's Mark and Tab," May says. "I've been really into that as a mixer lately. Try whiskey and Tab; it's good stuff."
May recently released two songs from his upcoming full-length by way of a 7" single on Texas label Forest Family Records. According to May, the drum machine and synths on "Eastover Wife" and "That Feeling" are indicative of what's to come. As a subtle tribute, the wax is lavender in color—an ode to Prince.
Lately, May's been recording his second album at his Taylor home. As of now, there's no release date, but he hopes to finish recording by the end of the year. In the meantime, his only non-Mississippi show scheduled is at CMJ next month.
May's come a long way since first getting the groove going behind the microphone at age 13 in a cover band. "I was the rapper in the band. I wasn't the lead singer," he says. "I remember the first song I sang on the mic was rapping Vanilla Ice's 'Ice Ice Baby.' We recorded a cassette of covers. There was an Eve 6 song on there, an Our Lady Peace song. We did Creed covers, 311 covers…"
Rapping on Creed songs? "Actually, I didn't rap in the Creed songs," May explains. "I did sing back-up vocals on the Creed songs. We really did cover like, three or four different Creed songs."
In fact, when Scott Stapp & Co.'s recent reunion came about, May renewed his familiarity with the band. Although, it's hard to say how serious he is, especially over the phone. "I've kind of been keeping up a little bit. I actually downloaded their album Human Clay the other night," he says an audible smirk in his tone. "I listened to it that night, and maybe we'll be hearing a little more Creed influence in my new stuff."
Listen to Dent May's latest single, "Eastover Wives," from his upcoming Paw Tracks release here.
Others Tagged With