Elvis Costello Discusses National Ransom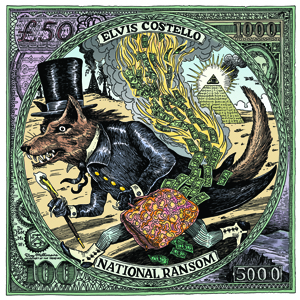 Slowly but surely, your friends here at Paste have been sharing news about Elvis Costello's upcoming album National Ransom, which is now due out in November. Well, we've got some more information, this time from the man himself.
Recently, Costello sat down with Odile W. Husband for an interview about the upcoming release. In the interview, the multitalented British singer-songwriter touched upon a variety of topics centered around National Ransom, like a recurring wolf theme.
In addition to a wolf gracing the album cover (above, right), a wolf also appears, as Husband points out, in National Ransom's opening and closing songs.
"The wolf in 'National Ransom' — and perhaps that one in the cover illustration — might have been a goat. A scapegoat," says Costello. "We are always looking for someone to blame for our misfortunes and in this case we may have found the culprit. Look at his mug shot. He's carrying a big bag of burning money. You can probably imagine how useful burning money can be. Then again, the wolf I have in mind is within us all. We are all complicit, if not accountable, desiring things that are beyond our means, handing power over us all to the wolves at the door."
Costello also discusses the rain as another recurring theme and the artists he collaborated with on the album like T Bone Burnett and Jim Lauderdale, among others.
The entire transcript can be found on Costello's website.
Got news tips for Paste? Email news@pastemagazine.com.
Others Tagged With