Led Zeppelin Tribute Album to Feature M. Ward & Laura Veirs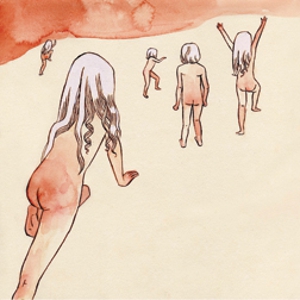 From The Land of Ice And Snow, Jealous Butcher Records' 50-track, two-disc Led Zeppelin tribute album drops on October 12, and it promises to be totally awesome.
Earlier this week, the Portland-based record label posted news that their upcoming Led Zeppelin compilation, six years in the making, is finally complete. According to the post, 50 bands participated in their project, culminating in two full discs and a digital album of Zep covers.
The extensive track listing bears an overwhelming collection of Led Zeppelin tracks both classic and obscure, including highlights like M. Ward's take on "Bron-Yr-Aur" and "In The Evening" done by Death Cab for Cutie's own Chris Walla. The cover art (above, right) comes care of Carson Ellis, whose work graces several Decemberists album covers, and the inside art was done by John King. As if all that weren't enough, a percentage of the album proceeds will also be donated to a group called First Octave, which gives grants to Portland Public Schools to help fund music programs.
The label is hosting a release show October 9 where those in attendance can grab a copy before everyone else. Check out the full track listing and show updates here.
Full tracklist:
DISC 1
Good Times Bad Times / KIND OF LIKE SPITTING
Babe I'm Gonna Leave You / THE CLAMPITT FAMILY
Dazed And Confused / THE PORTLAND CELLO PROJECT
featuring LAURA GIBSON & JOHN MOEN
Your Time Is Gonna Come / NICK JAINA
Whole Lotta Love / FUKD'UPTIGHT
Poor Tom / ADAM SELZER
Nobody's Fault But Mine / CARCRASHLANDER
Fool In The Rain / KAIA
Thank You / DAN JONES
Heartbreaker / LACKTHEREOF FEAT. PETE MCCRACKEN
Moby Dick / KNOCK-KNOCK
Out On The Tiles / SUPER XX MAN
Friends / AMY ANELLE & THE SHISHI VALLEY BOYS
Tangerine / JEFF LONDON
Bron-Y-Aur Stomp / ARCH CAPE
Hey Hey What Can I Do / WEINLAND
In The Evening / CHRIS WALLA
DISC 2
Black Dog / LANA REBEL
Rock and Roll / PELLET GUN
The Battle of Evermore / TU FAWNING
Stairway To Heaven / KELLY BLAIR BAUMAN
Misty Moutain Hop / BUELTON
Four Sticks / REBECCA GATES AND THE CONSORTIUM
Over The Hills and Far Away / JOHANNA KUNIN
No Quarter / TESTFACE
The Ocean / LAURA VEIRS & MOUNT ANALOG
Houses Of The Holy / BELTLINE
Kashmir / LOCH LOMOND
In The Light / THE LONG WINTERS
Bron-Yr-Aur / M. WARD
Down By The Seaside / POWER OF COUNTY
All My Love / PARKS & RECREATION
I'm Gonna Crawl / DAVE DEPPER
DIGITAL BONUS TRACKS
Communication Breakdown / CAPTAIN VS. CREW
Heartbreaker / WOW & FLUTTER
Ramble On / THE LITTLE BETTERS
Immigrant Song / LEIGH MARBLE
That's The Way / THIS BUSY MONSTER
Rock and Roll / TRACTOR OPERATOR
Going To California / THE VALIANT ARMS
When the Levee Breaks / LARRY CRANE
The Rain Song / ANTLERAND
Over The Hills and Far Away / THE MIGHTY GHOSTS OF HEAVEN
Dancing Days / MISS MURGATROID AND THE QUEENS OF HEART
D'yer Mak'er / CHAD CROUCH
The Wanton Song / REMOTE TREE CHILDREN
Nobodys Fault But Mine V.1 / CARCRASHLANDER
Going To California / COOL SUMNER
featuring LISA SCHONBERG, KATY DAVIDSON & TARA JANE O'NEIL
Tea For One / LKN
Hot Dog / THE BIG RIVER BAND
Got news tips for Paste? Email news@pastemagazine.com.
Others Tagged With