Joe Pug Gives Fans A Break: Announces $10 Dollar Tour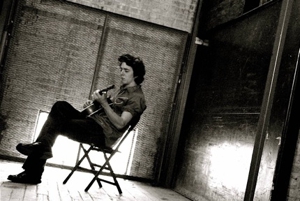 "It's been my honor over the last two years to play support for artists that I admire deeply," says Joe Pug. "This fall, however, the show is ours. And since we're at the top of the bill, we make the rules. So let's start here… tickets will be ten dollars."
Indie singer-songwriter Joe Pug has managed to take on the difficult task of trying to put a cap on the increasing concert fees that has strangled many concert goers in this economic downturn. He has arranged to put some of his tickets up for sale directly from his website, where he posted the following:
"If that means we wait another year for a fancy van, no problem. If that means we all bunk up into one hotel room, it won't be the first time. And if that means that our bass-player Matt must find new means to maintain his raging apple-tini habit, he will answer that solemn call."
Citing his own personal experience of purchasing concert tickets with jacked up fees, Pug will sale the first 50 tickets of his October 16th show date and at the oh-so reasonable price of just 10 dollars, no fees attached.
"The amount charged to your credit card will be exactly 10 bucks per ticket. If all goes well we hope to roll out the no-fee ticketing for entire tours."
This isn't the first time Joe Pug has made a mission to keep the good music flowing without breaking the bank. He released his In The Meantime EP free of charge.
Pug has been on the road for most of 2010 supporting his new album Messenger
and just completed a successful summer tour that climaxed with him performing "The Weight" with Elvis Costello and The Levon Helm Band in Vancouver ( Video here).
This year, Pug has been nominated for the New and Emerging Artist award at the Americana Association Honors and Awards Show, which will be held in Nashville this September.
10 Dollar Tour Dates:
October
8 Norfolk, VA—Attucks Theater#
9 Chapel Hill, NC—Local 506
11 Nashville, TN—The Basement
12 Bloomington, IN—The Bishop
13 Louisville, KY—Skull Alley
14 Ann Arbor, MI—The Ark#
16 Chicago, IL—Metro
18 Minneapolis, MN—Cedar Cultural Center
19 Iowa City, IA—Englert Theater
21 Boulder, CO—Old Main Hall
22 Denver, CO—Hi Dive
23 Salt Lake City, UT—State Room*
25 Vancouver, BC—Media Club
26 Seattle, WA—Tractor Tavern
28 Portland, OR—Doug Fir Lounge
29 San Francisco, CA—Bottom of the Hill
31 Los Angeles, CA—Spaceland
November
1 San Diego, CA—The Loft at UCSD
3 Santa Fe, NM—Santa Fe Brewing Co.
6 Austin, TX—Cactus Cafe
7 Houston, TX—Mucky Duck
indicates non-profit venue and exception to $10 cap
supporting The Weepies
Got news tips for Paste? Email news@pastemagazine.com.
Others Tagged With