Page 2 of 3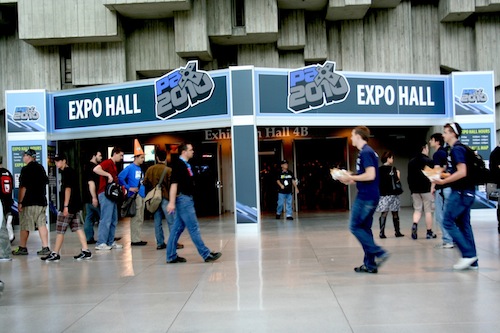 As much as PAX is about coming together, there also exists a subtle but pervasive sense of being on the outside looking in. Perhaps this is simply a result of the convention's popularity—the inconvenient mass of the crowd is ever-present, its serpentine, impossibly long lines clogging every square foot of the vast expo floor. The booths offer gamers a chance to play their most anticipated upcoming releases, but between the lines and the strategically placed view-blocking walls, many feel so impenetrable as to be off-limits entirely.
Similarly the convention's vast console, tabletop and PC freeplay spaces are at once beautiful and daunting. Walking among the flashing screens and jangling speakers of the cavernous console freeplay room feels akin to walking through Xbox Live itself. When placed alongside so many others, how special could my gaming experiences really be?
The unprecedented size of this year's convention is not lost on its founders, Penny Arcade creators Jerry Holkins and Mike Krahulik. On Sunday morning I ask them about Spector's keynote and how the community is dealing with the cultural mainstream's ever-growing interest in videogames.
"I think one of the best points he made was that we can't always bitch about people not understanding us and then also bitch about them trying to understand us," says Krahulik. "You can't have it both ways."
"We can't scare [casual gamers] away just because they're not of our tribe," adds Holkins, going on to talk a bit about his own mother who, on his advice, has been getting interested in some of the hardcore games that he plays and writes about. He shares a text message from her in which she enthusiastically recounts her recent Xbox exploits: "Just played Halo. I powned. [sic] Awww yeah!"
As Holkins tells his story the room fills with good-natured laughter, but over the course of the convention, not everyone is so gentle with newcomers. During the Q&A segment of a videogame journalism panel, a middle-aged English professor approaches the microphone and prefaces her query by cautiously asking why there aren't more people her age in attendance. Without missing a beat, a journalist on the panel quips, "Because they're all too busy playing Farmville!" A deep guffaw rises from the crowd and, realizing he might've overstepped, the panelist quickly backpedals and graciously answers her question.
The exchange is indicative of the delicate balancing act with which many gamers are faced—if we must revel in our specialness while also welcoming newcomers, surely there is going to be some conflict between the two. Videogames traffic in personalized fantasy, so it's not a surprise that some of us have a hard time opening them up to the rest of the world. Is there anything harder to share than one's fantasies?
Others Tagged With