The Booky Man: Two for the Books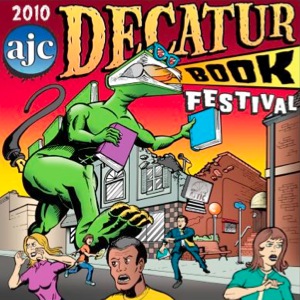 The hysterical sturm und drang regarding the possible end of publishing prompts this week's column. The Booky Man is happy to report that we are still blessed with giants in the earth when it comes to champions for books and writers.
Five years ago, two smart guys took it on themselves to create a celebration for all-things literary here in Atlanta. Technically, the AJC Decatur Book Festival Presented by DeKalb Medical (AJC DBF) takes place on the streets of Decatur, Georgia, a sweet little suburb of the nation's fifth-largest city. I've heard Decatur folk describe the community as "where Mayberry meets Manhattan." There's a lot more Mayberry than Manhattan, truth to tell, but most people consider that all to the good when it comes to living and breathing. Paste is based here, and it's just one of the wonders.
Daren Wang and Thomas Bell were the two catalysts for the book festival back in 2005. Under their guidance, the event has grown in only five years to become the largest independent book festival in the country and the fourth largest overall. In 2009, as many as 60,000 festival goers crowded the historic downtown Decatur Square to enjoy book signings, author readings, panel discussions, an interactive children's area, live music, parades, cooking demonstrations, poetry slams, writing workshops, and a critter named Bookzilla.
To give you an idea of the festival's growing national clout, consider that Jonathan Franzen, just weeks after becoming the first writer to make the cover of Time magazine since Stephen King 10 years ago, launched a national tour for his widely anticipated new book, Freedom, A Novel, to kick off the festival. Labor Day weekend became a mob scene, with 300 happy writers – is there anything in the world happier than a writer free from the page for a few hours? – and tens of thousands more lovers of words enjoying the workshops, performances and beer halls of Decatur.
Two guys who love books had an idea. They put their energy and creativity and smarts to work. In just five quick years, they've created one of the great annual writing events in this country.
A column is not nearly enough thanks for the service Daren and Tom have given to all books and writers. Call them authors too – they're writing their own new chapters in the ongoing book of books.
For more information on the AJC DBF, visit www.ajcdecaturbookfestival.com.
Others Tagged With