Best Coast Talks Weezer Collaboration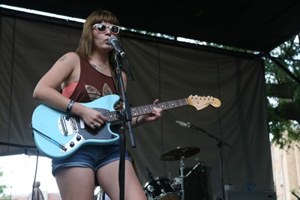 When news recently surfaced that Weezer's Rivers Cuomo and Best Coast's Bethany Cosentino had worked together on a song, it made sense. Both Cuomo and Cosentino are purveyors of melodic rock 'n' roll songs full of longing, so why not join forces and see what happens?
"I definitely really enjoyed working with other musicians, other artists so I continued that process on Hurley," Cuomo told Triple J late last week. "I'm still doing it actually, tomorrow I'm getting together with the girl from Best Coast and we're going to write a song. You never know where these songs are going to end up, but it could be on the next Weezer record."
Although Cosentino is hesitant to reveal too much about the track ("I don't really know how much I can talk about it," she tells Paste.) she is happy to explain how the collaboration came about. In a turn of events that should please any '90s-alt-rock lover, it all started with a mixtape. "I did an online mixtape for The Independent in the UK and I put a Weezer song on it," Cosentino recalls. "For every song, I wrote a little sentence or two about why I chose it. I put a Weezer song on there."
Cuomo took it from there. "He tweeted at me and said, 'Thanks so much for the shout-out. We really enjoy your music too,'" Cosentino says. "I will literally never forget this moment: I was sitting on the floor in my living room and my dad was at my house and I was like, 'Holy shit! Rivers Cuomo just tweeted at me.' I didn't think it was real, but [the account] was verified. We kind of kept randomly tweeting at each other and then I was on tour and my manager called me and said, 'Rivers has invited you to come write with him.' I kind of wanted to throw up in my mouth a little. It's one thing to collaborate with any artist, but to be able to collaborate with somebody who's that influential to music I've listened to my entire life was really, really amazing."
The song, which Cosentino says is "kind of a duet," will feature her vocals. It has a yet-to-be-announced title, but she isn't sure about where or when it will find release. Mostly, she's just excited for people to hear it, adding that she thinks it's an unexpected sound for Cuomo, though not necessarily for her. Perhaps unsurprisingly, the collaboration was quite natural. "When we were writing lyrics, he didn't look at me like, 'That's really cheesy,' like some people might. He was like, 'Oh that's cool.' I was like, 'Finally, somebody gets it.' It took Rivers Cuomo to make me feel confident that someone else understands."
Got news tips for Paste? Email news@pastemagazine.com.
Others Tagged With