Best of What's Next: Quiet Company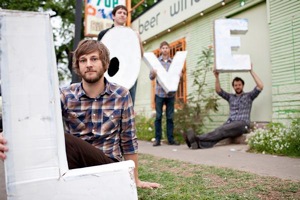 HOMETOWN: Austin, Texas
ALBUM: Songs for Staying In (EP)
MEMBERS: Taylor Muse (piano, guitar, lead vocals), Tommy Blank (guitar, electric piano, backup vocals), Matt Parmenter (bass, piano, backup vocals), Jeff Weathers (drums).
FOR FANS OF: Death Cab for Cutie, Ben Folds, Greg Laswell
The night before the 2008 ACL Music Fest, Mates of State were preparing to play a Paste Party in Austin when they realized their prized Glockenspiel was missing. Fortunately, local band Quiet Company, who uses the musical bells in their performance, came to the rescue. Two years later, Quiet Company is making a noise of their own with the recent EP Songs for Staying In, a precursor to the release of a full-length album next spring. Singer Taylor Muse insists the title was intended to be obvious. "When couples stay in, they stay in the bedroom."
With love-laden lyrics and somewhat jaunty melodies, the band still wraps an "edge" around catchy songs—more interesting than what Taylor humbly refers to as just "epic power-pop." For example, sounding like a low-budget, cell-phone recording in the first four bars, the opening track "How Do You Do It" quickly steps into an impressive studio production in spite of the fact that the entire EP was recorded in bassist Matt Parmenter's apartment. "He doesn't have a living room now," says Taylor. "It's just this huge isolation booth. We're probably going to do the bulk of our next record there, too."
Taylor says the band's advancement truly began when they left the traditional corporate record label and just did everything themselves. "It's [now] more about getting a team around you that believes in you, getting management, someone to do your booking, getting a publicist. All these things you can get for yourselves, you don't need a label." It's all led to more attention, including background play on TV shows like Keeping Up With The Kardashians and The Real World: Washington D.C. plus walk-on roles in ABC's new series My Generation.
"The main thing is we always worked hard," says Taylor.
Last month all of Quiet Company's guitars, plus other items, were stolen from their trailer. This time, the band was on the receiving end of a rescue thanks to local friends, including the Gibson Guitar Showroom. It's nice to see a good deed rewarded.
Watch the video for Quiet Company's "Biblical Sense of the Word" (as performed by the animatronic Rock-afire Explosion), which debuted today:
Others Tagged With