Best of What's Next: Super Desserts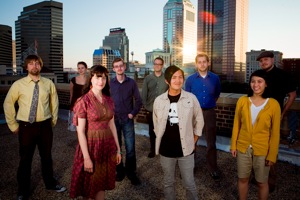 Hometown: Columbus, Ohio
Album: Twee as Folk
Band Members: Joseph Brenneman (clarinet), Alyssa Capps (cello), Tyler Evans (banjo), Erik Kang (violin), Ianna Kristiansen (vocals), Frances Litterski (vocals, glockenspiel), Bobby Miller III (vocals, guitar), Emily Ng (viola), Matt Ogborn (viola), Justin Riley (vocals, guitar), Eve Searls (vocals, ukulele)
For Fans Of: She & Him, Kimya Dawson, Belle & Sebastian
When Super Desserts formed in 2008, they didn't want to be just any old band. So they made a few rules, the first and most important being, "Don't rock," says Justin Riley, the collective's creative director of sorts.
Other Super Desserts pillars followed: No sad songs. Boys and girls. Release music as quickly as possible. Perform without amplification, and in non-traditional spaces. Do everything DIY. "We wanted to be the antithesis of three sweaty dudes rocking in a basement," says guitarist/singer Bobby Miller.
Some rules have been fudged over time, but that initial vision is intact. The gender-blended band recently played a (mostly) unplugged album release show at a hipster craft shop, complete with homemade-dessert table. They've put out two albums in 2010—Banjo Forever on vinyl and Twee as Folk on CD with an oversized, 26-page booklet of photo collages and people with animal heads.
You certainly won't find any rawk hands at a Super Desserts show, either. There's no drum set. A ukulele is often the lead instrument, accompanied by glockenspiel, melodica, clarinet, a full string section, banjo, guitar, sitar, shakers and more. The band has 11 permanent members. Or is it 12?
"We lose count, actually," Riley says.
The sprawling gaggle boasts seven songwriters, but every song is seamlessly integrated and run through the twee machine—lovely, layered harmonies; rich, chamber-pop strings; and lyrics as endearing as they are quirky.
On "Funeral" Riley sings about making out with a cousin from Cleveland at his great-grandmother's funeral. "Give Your Mom a Call" finds him bemoaning a bad haircut from his girlfriend's father. "I Only Love You Because You Can Play Guitar" is pretty self-explanatory.
Super Desserts are inspired as much by vaudeville musician Cliff Edwards (the voice of Jiminy Cricket in Pinocchio) as they are by noise-pop trio and fellow Columbus band Times New Viking. "They've got these really awesome song titles," Riley says of TNV. "They do their own artwork. There's a feel to the band."
And Super Desserts say their candy-coated presentation is no peripheral gimmick.
"We're careful about every aspect of the band," Riley says. "We try to be interesting in a lot of different ways."
Others Tagged With