Catching Up With... Tim and Eric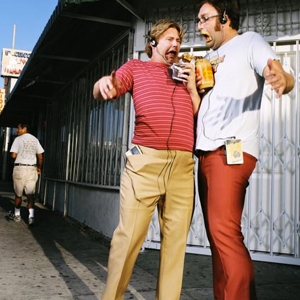 Sometimes, there is something so weird even drugs can't explain it. For three years, that thing was the Tim and Eric Awesome Show, Great Job! After the show's final episode in May, Tim Heidecker and Eric Wareheim began work on a spin-off, Check It Out! with Dr. Steve Brule, starring John C. Reilly, as well as a Tim and Eric movie. Recently, they announced plans for a one-hour Chrimbus special to air December 5 on Cartoon Network and a live tour featuring their half-serious band, Pusswhip Banggang. Heidecker and Wareheim talked to Paste about the special, the tour and the future for Tim and Eric.
Paste: How did the Chrimbus special come about?
Eric Wareheim: We wanted to do a holiday special, a one-hour thing. We can't do a full season right now. We're so busy making a movie and touring. This is a one-hour holiday special on Adult Swim December 5. It has some good, classic characters – Carol and Mrs. Henderson, it's got Pierre, David Liebe Hart, James Quall.
Tim Heidecker: We said to the network, "We'll give you guys a half-hour _Chrimbus _ special," and they said, "Why don't you give us an hour?" We said, "Well, that's double." We were a little intimidated about that, but I've got to tell you, we've got a rough cut right now that's about 15 minutes over.
Wareheim: I was going to say, I have never been so excited for a rough cut in all my days. We put a lot of time, and energy, and costumes, and songs and craftsmanship into this production. It's very special.
Heidecker: It's a spectacular production.
Paste: Will there be any surprises? You've said, perhaps joking, that the special will feature reenactments of Jaws and Jaws 2.
Heidecker: You know, Tim and Eric have done things on stage – for example, the "Muscles for Bones" show – but this sort of gets ratcheted to the next level. It has a production value that I don't think you've ever seen from us before.
Paste: What about the tour? This is the first time you will be touring with a live band. Who is in the band?
Heidecker: It's Mark Livingood on bass, who is a professional bass player. He's a road dog. He's been in numerous bands, groups, touring outfits.
Wareheim: Found him on MySpace.
Heidecker: By the way, he writes and performs his own music, which is not going to be featured as part of the tour. You've got Davin Wood on keys. Now, Davin has been with us since our first show, "Tom Goes to the Mayor." He writes a lot of the music for the show. He brings a professional element. And, we've got a man named Clark Reinking on skins. You know, it's been sort of a historically hard position to fill—drummer. The original man we worked with is not technically proficient enough to play professionally. We had to let him go. It was hard. For a short period, we had DJ Dougg Pound on skins. That didn't work out either.
Paste: Music was a big part of the Awesome Show. How are music and comedy connected for you?
Wareheim: Tim and I started out as musicians, in a sense. There's a huge tradition of Weird Al in the world—funny songs.
Heidecker: Musical comedies.
Wareheim: Pusswhip is just an extreme version of that. I just got Tim's Les Paul fixed, and it rocks.
Heidecker: It's a bit of a selfish move on our part, because it's so fun to do. But also, we're trying to put on a good, fun show and interpretations of songs from the show that people want to hear. It's just going to be a party. We want people dancing and singing along. We're going to do some funny stuff on stage as well. We're going to make a lot of people laugh at the same time.
Wareheim: Can you imagine going to a comedy show, and seeing a full comedy show, and then just as you're about to leave and buy a T-shirt, you're like, "Oh, we have a full 40-minute set of Pusswhip Banggang," a mediocre rock band doing funny songs? That's huge.
Heidecker: But then you're like, "I don't really like Southern blues rock, but I do like songs like 'Petite Feet,' and 'Poke On,' from the show. I wonder how that would sound through the filter of a Southern blues rock group?" We answer that question for you every night on the road. [Pauses] The answer is usually, "I probably wouldn't want to see that again, but I'm glad I saw it."
Wareheim: Yeah.
Paste: Can you say anything about the movie you are working on? Any special appearances or plot developments?
Wareheim: It's out there now.
Heidecker: The movie was released in June to no fanfare. We were not even allowed to have a premiere party for it. There was no money in the budget for it. I didn't even have a chance to see the film.
Paste: Is that so?
Heidecker: But, I think it's going to be on HBO Latino on Saturday. No, we're shooting the movie in February, and so we don't have too much to say about it now, except it's going to carry on the tradition that we started with Awesome Show. It's just another Tim and Eric adventure.
Wareheim: Sorry to interrupt guys… Tim, did you get the forward I just sent?
Heidecker: I got one—so cute.
Wareheim: My mom just sent this—her first email was 2:06 p.m., the second one 2:09 p.m. The subject is, "So cute." This is twin baby koalas.
Heidecker: That first picture is not very cute at all.
Wareheim: No. The fourth picture—come on. You don't often see koalas that cute. They're like small bears, Travis. If you can imagine a small bear.
Heidecker: Dangerous.
Wareheim: Bear-raccoon mix. Very dangerous.
Paste: Will there ever be another season of Awesome Show?
Heidecker: It's just like an open question for us now. At the moment, we feel like we've done everything we wanted to do with the show. We've said everything we wanted to say. I think there's a fear of making a bad season or a regrettable season. And, we've got other ideas that we want to explore doing, different shows, movies, all kinds of stuff. I think we'll still want to make shows at Adult Swim—maybe a second season of Steve Brule, perhaps. I just don't want people to think that Tim and Eric are going away and not going to make any more comedy. That's certainly not the case.
Others Tagged With