CMJ 2010 Preview: Young Man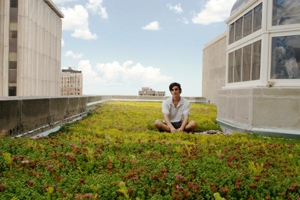 Honest warbling on a set agenda
Colin Caulfield, an English major at Loyola University Chicago who records under the Young Man moniker, never even played a show until last spring semester. It was in Paris. And he opened for Animal Collective's Deakin.
Kitchen, a small record label based in Paris found Caulfield's MySpace through a mutual friend and contacted him a few days before he left for his semester abroad in the same city. The label had heard Boy and were impressed. "They were like, 'Oh, we're interested in releasing it over here,'" the literate songwriter says. "And I was like, 'I'm going to be there in just a little bit.' And so I got there and they already had stuff set up for me. They got me in contact with the booking agent and I ended up jumping on the bill."
He noted his surprising lack of nerves considering the honor of opening for a major personal influence. "It was my first idol thing—they're [Animal Collective] not idols, per se, still [it] was very much like talking to a celebrity, which is something I'd never experienced," he says.
Caulfield's covered Animal Collective, Beach House and a bevy of other artists on his YouTube channel, along with plenty of originals. One particular stand-out cover video features the dark-haired folkster backdropped by the Minnesotan tundra warbling while slouched over his guitar. The St. Paul native plucks an angelic tribute to the Velvet Underground's "All Tomorrow's Parties."
It wasn't as easy as he made it look, though. "We ended up doing six tries because my fingers were going numb after 30 seconds," he says. "It was really really difficult to do. But we were already up there and if we were going to leave without anything, it would have been pretty disappointing."
At a ripe 21 years of age, Caulfield said he doesn't plan to continue his journey as Young Man much longer. "Actually when I started [Young Man] it had a beginning and end. I think I'll be putting out only one or two more EP's and I have two full-lengths written already," he says. "So the project is very much mapped out. After the next two full-lengths, I'll just be done with the whole writing about youth, writing about growing up and whatever comes with that. I'll want to move on to something else."
Catch Young Man Thursday, Oct. 21 at the Music Hall of Williamsburg at 8 p.m.
Others Tagged With