Ears We Trust: The Crocodile Café's Eli Anderson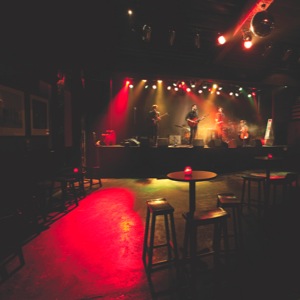 Eli Anderson is the talent buyer for the famed Seattle nightclub The Crocodile Café. He used to work for notorious Sonic Boom Records, where local alt-weekly The Stranger voted him "Seattle's Sexiest Record Store Employee." Here's what he's listening to and loving.
FRESH ESPRESSO – Glamour
People still come to the Crocodile in 2010 to see the "place where Nirvana played." I think in 20 years they will be coming to see the place where Fresh Espresso, THEESatisfaction, Mad Rad and Helladope played. Seattle hip-hop is going to go national in a big way ASAP, and these guys are my faves.
TELEKINESIS – "Dirty Thing"
God bless a band that puts one of their best songs on obscuro limited 7" and import-only 10" vinyl. Telekinesis makes writing a straight-ahead pop song about feelings 'n' junk look easy. And it's not.
CAMERA OBSCURA – "Tougher Than The Rest"
A 1987 Springsteen song and the first "deep album cut" I was ever into. This cover 
version is performed by a woman who could make me melt even if she was singing me the riot act.
CURTIS MAYFIELD – There's No Place Like America Today
Why this album isn't heralded as stone classic is beyond me. It's effortless yet elaborate soul with some wicked, subtle drumming. Smoother than the smoothest smooth.
KMCQ 104.5 FM
A DJ- and commercial-free radio station in the Seattle area that plays like someone's broken iPod stuck on shuffle. I literally just heard Martha and The Vandellas segue into Aerosmith into the Bee Gees. And I'm not mad at that.
Others Tagged With