Guided By Voices Talk Reuniting the Classic Lineup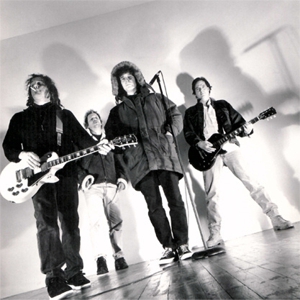 It's been almost 20 years since the "classic lineup" of Guided By Voices became the critical darlings of the music world thanks to an underdog charm and a mountainous pile of one-minute pop bursts, chugging punk and stadium-rock-style anthems penned by elementary school teacher Robert Pollard.
After years of frustration, the group of ragtag, thirtysomething rock obsessives went from obscurity in Dayton, Ohio, to a spot on the Lollapalooza tour, TV appearances, attention from MTV and heavy play from college radio stations all over the country almost overnight.
Drummer Kevin Fennell, bassist Greg Demos and guitarists Mitch Mitchell and Tobin Sprout were fixtures in the live lineup and part of Pollard's rock orchestra on two albums—1994's Bee Thousand and 1995's Alien Lanes—that have found a home on countless Best of the Decade lists. Along with 1992's Propeller (intended as a last swing) and 1993's wacked out Vampire on Titus, these records were stuffed with songs laid down on 4-track recorders and boom boxes and basted with a warm, lo-fi, vinyl sound.
When the so-called "classic lineup" of GBV parted ways in 1996, Pollard soldiered on with a variety of lineups, one of which included Demos. Mitchell, Sprout and Fennell went off in different directions, never to return. Up until a few months ago, they were more likely to motor around than to play "Motor Away," more likely to reach for the dust bin instead of the buzz bin.
Mitchell drives a truck for a living. He makes three 67-mile round trips from Dayton to Marysville every day. If that sounds bad, it sure beats the days when he'd drive coast to coast and up into Canada. "Just 400 miles a day—to me that's like going up to the corner for a pack of cigarettes," Mitchell says. He still plays sporadic gigs with his own band, The Terrifying Experience, when he's not making runs. "You see a lot of interesting things from my perspective. You look down in a car, and you see things you don't want to see."
Sprout, who played guitar and contributed several fan favorites to the GBV catalog, lives the family life in Leland, Mich. And despite a recent return to writing and recording, he's focused on his artwork and his children—14-year-old Martha and 15-year-old Turner—and, until only recently, wasn't all that interested in playing guitar and singing for the duration of a typical booze-fueled three-hour GBV concert. "The music kind of went to the backburner for a while," said Sprout, whose recently released album The Bluebirds Of Happiness Tried To Land On My Shoulder was his first since 2003. "A year ago, I got excited about a few songs and started writing again."
Fennell, who played drums for the band, works as a drug and alcohol counselor in Columbus and says he hasn't been playing out much at all. "I pretty much decided that music was over," Fennell says. "I never played with anyone but Guided By Voices. I think everything would kind of pale in comparison. I'm kind of picky."
Fennell said that, in March of last year, he told Pollard that if he wanted to reunite the classic lineup, he'd be all for it. At the time, Fennell said, Pollard was pretty emphatic in his response: "He was like, 'No way, I don't see that happening.'"
Now, things have changed.
Matador Records, the label that released Bee Thousand, Alien Lanes and Under The Bushes, Under The Stars, invited the band to play at its 21st anniversary event in Las Vegas, which took place this past weekend Oct. 1-3, along with fellow former labelmates Spoon, Pavement and Sonic Youth.
But label officials didn't invite any old lineup of GBV — Pollard changed the parts of his band like a maniacal auto mechanic. They wanted the classic lineup. Pollard, Sprout, Mitchell, Fennell, Demos.
For Mitchell, the call to return to active duty came in July. "I dug out all the records and started practicing that night. It's like Christmas when you're eight years old. You come downstairs and you're like, 'Wow.' I couldn't sleep for like three days afterward," Mitchell said. "I kind of had a weird intuition that one day we would play, if not a tour but maybe a show."
"I'm terrified, I'm happy, elated, all of the good, positive things that can come from that. I hope I don't have a heart attack. I've lost like 26 pounds. I was kind of a fatty. I don't want to go out there looking like whatever fat guy group."
Sprout, who left the band in 1996 when family life became a priority, didn't hesitate to say yes to a reunion, even after Pollard said a tour could follow the Matador show. He found that the best way to relearn the tunes was to watch himself on YouTube. "My kids are old enough that I can get out of the house," says Sprout, who hadn't seen Mitchell and Fennell for years before they rehearsed together in early September. "Kind of in the back of my head I was hoping it would happen. This is almost the ideal situation, where Matador pushed us together. These are the guys that from the time that I got into it, the one that really got out and playing."
Fennell said he knew immediately that the original lineup would be reuniting when Pollard called him out of the blue at about 11 p.m. on a Friday night and left a message saying he had some pretty good news. "He knew that I would be all for it. I was extremely excited, when it wasn't even about the money," Fennell says. "I would have done it for nothing."
Fennell, Mitchell and Demos got together and practiced without Sprout and Pollard, and then in early September the whole group got together for the first full practice. The first song was "Salty Salute," the lead-off track from Alien Lanes. Sprout says things were a little shaky at first, with some players trying to remember how certain songs went. Luckily, there was a rabid GBV fan on hand to show the actual members how to play their own tunes.
"At first we kind of looked at each other and just laughed," Mitchell says. "It was like, 'Oh my God, man, I can't believe it.' To a man we were like, 'I can't believe it and let's get started.' It was a little rough at first."
Mitchell thinks they'll be fine, ultimately. "We're ready. I think we're ready," he says. "It's going to kick ass. We're ready to go. I don't know if its going to be better (than it was). It's going to be equally as good. It was good then, you know? It's going to be as good now. We've probably gotten better at our instruments over the years."
Fennell says fans who never saw the "classic lineup" will experience a meatier sound as compared to the later-period lineup that featured guitarists Doug Gillard and Nate Farley. The members of the "new" GBV were clearly better players, he said, but his boys have a connection to classics like "Game of Pricks" that they don't. "When that was written we were all there and we recorded it pretty much on the spot. I learned the song 20 minutes after it was written, and there's that spontaneity. I think we are truly going to blow people's minds. I think it transfers to the audience, that energy that the original lineup brings," Fennell says. "I definitely think it's ballsier. I think it's a little more raw, a little more rock. I don't think it's ego driven, but I've always thought that the original lineup was the best lineup. The fact that we grew up together."
The only difference Mitchell saw between the Gillard lineup and the classic lineup was that they were better players. Mitchell followed the band after he left in '97 and remained friends with Pollard and all the other guys who went through the revolving door of GBV. Still, seeing somebody else play the songs he played for years was a little off-putting. "At first I felt weird, like, I wish I was doing it," Mitchell says. "I'm personal friends with a lot of those guys, so it was kind of cool to see those guys playing some of those older songs. But then doing the newer songs … it was actually kind of neat. Those guys are good musicians and good dudes. Doug is an amazing guitar player, and Nate is an amazing guitar player, too. GBV is like a weird being in that it goes one way and it maybe goes another way and then you expect something else."
So what happens after the tour ends in early November? Rumors have been swirling about shows in Europe, and maybe even a new GBV record. Sprout says they've talked about doing a live album, and that he'd be all for getting back in the studio as GBV. Mitchell takes it a step further, though. "We're just going to take it one thing at a time. I would like to maybe explore the possibility of another GBV record, as GBV. I think that might be really interesting. We might have kind of discussed that possibility. It's hard to say from now to then. I think it's going to depend on how this goes. I wouldn't rule out that possibility. Bob is enthused about it. He loves GBV — why not do another one?"
Fennell, for his part, isn't looking too far ahead. He's focusing on the tour and feeling grateful that he gets to do this all over again. "It's great that the legacy has continued on. And I feel really blessed to be a part of that. I mean, I'm on cloud nine. And to be able to take that out and entertain and see the look on peoples faces, that's what it's all about. Bringing joy to people. People can't wait to see this, and I feel the same way. I can't wait to get out there."
—
Catch Guided By Voices on the remaining dates of the classic lineup tour.
Others Tagged With