Norah Jones, Carly Simon, Ben Harper, Many More Contribute to Documentary Soundtrack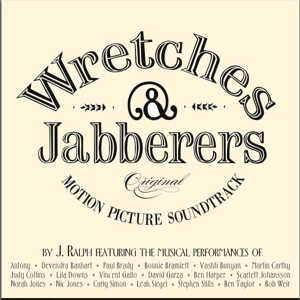 J. Ralph will be joined by a slew of big names for the upcoming Wretches & Jabberers soundtrack, out Jan. 11, 2011.
The film follows Larry Bissonnette and Tracy Thresher, two autistic men on a quest to raise awareness about the disability. In a press release, Ralph said he was inspired by the story of the film. "To me the story is about finding a voice, for those who've suffered so long without one of their own," he said.
Ralph will be joined on the soundtrack by Norah Jones, Carly Simon, Ben Harper, Antony, Vashti Bunyan, Ben Taylor, Bob Weir, Devendra Banhart, Judy Collins, Steven Stills, Scarlett Johannson, Paul Brady, Vincent Gallo, David Garza, Bonnie Bramlett, Nic Jones, Martin Carthy, Lila Downs, and Leah Siegel.
Tracklisting:
1. "The Reasons Why" by J. Ralph
2. "Change Is Gonna Come" by Norah Jones
3. "The Letter" by Carly Simon
4. "More Like You" by Ben Harper
5. "Killingly Hard" by Antony & J. Ralph
6. "Flower and The Lion" by Vashti Bunyan
7. "Given to Us" by Ben Taylor
8. "Breaking the Hold" by Bob Weir
9. "Lying Down Statues" by Devendra Barnhart & J. Ralph
10. "Birdsong Judy" by Judy Collins
11. "Low Barefoot Tolerance" by Stephen Stills
12. "One Whole Hour" by Scarlett Johannson
13. "Hello For The First Time (Four Words)" by Paul Brady
14. "No Regard" by Vincent Gallo
15. "Four Brave Souls" by David Garza
16. "Breakers & The Wind" by Bonnie Bramlett
17. "Pretty Words Lie" by Nic Jones
18. "Fighters & Factitioners" by Martin Carthy
19. "Entenderse" by Lila Downs
20. "Birdsong Reprise" by Leah Siegel
Got news tips for Paste? Email news@pastemagazine.com.
Others Tagged With