Mad Men vs. Breaking Bad: AMC Series Smackdown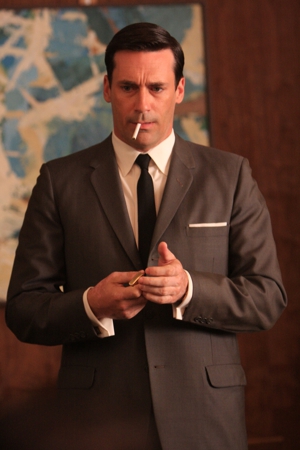 If you're like me, you're still mourning the loss of Jimmy McNulty, Vic Mackey, John Locke and Jack Bauer. You want to start a new TV series, but you're afraid nothing will live up to the greats that came out on FX and HBO over the past decade. Fortunately, AMC is quietly filling that void. Mad Men and Breaking Bad are both great, but which is the best? Let's break it all down.
Premise
Advantage to Breaking Bad
Everything you need to know about Mad Men can pretty much be summarized by one of the characters' quotes during the first episode: "Should we drink before the meeting, after the meeting or both?" There are plenty of moving parts and plot nuance as you follow ad men in 1950s in New York, but don't expect a fast ride on this journey.
Breaking Bad, on the other hand, is fast-paced, completely chaotic, and generally unpredictable. Watching the fast demise of a dying high-school chemistry teacher as he slips into a life of crime is utterly transfixing. The originality of the premise gives Breaking Bad the edge in this category.
Cinematic Quality
Advantage to Mad Men
If Hitchcock had digital cameras, his movies would have looked like episodes of Mad Men. It's not just the extreme close ups of Don Draper, Peggy Olson, and Pete Campbell that give the show the edge in this category—it's also that the directors have managed to completely recreate the 1950s in every way possible. The attention to detail in every scene of Mad Men is a marvel.
Breaking Bad is no slouch in this category either. The beautiful shots of the desert landscape in New Mexico and the focus on architecture are both spectacular.
Acting:
Advantage to Breaking Bad
God seems to have designed Jon Hamm specifically for the role of Don Draper in Mad Men, but I still have to give the edge here to Breaking Bad on bench strength.
Bryan Cranston's journey from "Dad" in Malcolm in the Middle to Walter White in Breaking Bad even eclipses John Lithgow's move from a goofball alien in 3rd Rock from the Sun to the Trinity Killer in Dexter. And Aaron Paul's performance as Jesse Pinkman and Anna Gunn's performance as Skyler White surely tip the scales. Phenomenal casting equals phenomenal show.
Bottom Line
Breaking Bad nudges out Mad Men in a 2-1 split decision. But it's a testament to AMC's foray into original drama that fight was this close. Give us your pick in the comments section below.
Sunil Rajaraman is the President and CEO of Scripped.com. Nearly 100,000 screenwriters currently use Scripped.com's flagship product, Scripped Writer, to write screenplays, stage plays, radio plays, and other creative works. Scripped.com has worked with Spike TV, Steven de Souza (writer of Die Hard and 48 Hours), and Alex Albrecht (the co-host of Diggnation).
Others Tagged With