Cafe Tacuba, Aterciopelados, Many More Pay Tribute to Os Mutantes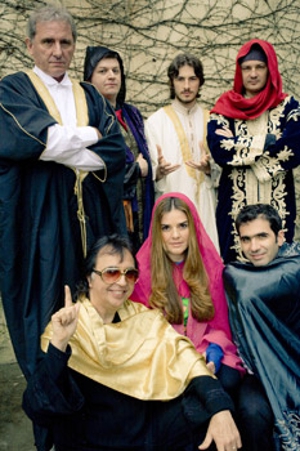 Hot on the heels of their tour with Magic Kids and Ariel Pink, Os Mutantes will be honored with a tribute album out next month.
Cafe Tacuba and Aterciopelados are just a few of the groups who pay tribute to the titans of tropicalia on El Justiciero Cha Cha Cha: A Tribute to Os Mutantes.
The album drops via Nacional Records on Nov. 9. Tracklist below:
1. "Ave Lucifer" by La Manzana Cromática Protoplasmática
2. "Vida De Cachorro" by Aterciopelados + Sergio Días (of Os Mutantes)
3. "Hey Boy" by Rosal
4. "Beso Exagerado" by Martín Buscaglia
5. "O Relogio" by Café Tacuba
6. "2001" by Raúl Refree
7. "Beija-Me Amor" by Liliana Herrero + Arnaldo Antunes
8. "El Justiciero" by Omar Giammarco
9. "Mutantes E Seus Cometas No Pais Dos Baurets" by Fernando Cabrera
10. "No Te Vas A Perder Por Ahí" by Pablo Dacal
11. "Cualquier Bobada" by Manuel Onis
12. "Balada Del Loco" by La Chicana
13. "Minha Menina" by Fito Paez
14. "Disculpe, Babe" by Silvia Perez
15. "Panis Et Circenses" by Pequeña Orquesta Reincidentes
16. "Fuga N II" by Ana Prada
17. "Baby" by Carlos Casacuberta
18. "E Seus Cometas No País Do Baurets" by Asdrúbal
Got news tips for Paste? Email news@pastemagazine.com.
Others Tagged With