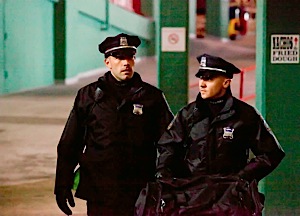 After a string of what could only be called embarrassments—Reindeer Games, Gigli, Jersey Girl, Paycheck,Surviving Christmas—Ben Affleck seems like he's ready to be taken seriously again. He dropped the high-profile relationship with the Jenny From The Block (you just know they both now regret that music video in which they mauled each other), took some time to clean himself up, got married to Jennifer Garner, accepted quieter parts like his supporting role in Hollywoodland, and emerged, incredibly, as a serious director in 2007 with Gone, Baby Gone. And now, four years after Project Rehabilitate Ben was launched, it can officially be deemed a success. In his latest directorial triumph, Affleck surpasses expectations we didn't even realize we had for him. It's a spellbinding thriller that hits all the right notes of suspense, romance, and heartbreak.
"The Town" is Charlestown, a Boston neighborhood that may as well be a prison sentence: lives of crime are passed down from generation to generation like family Bibles, and Affleck's character, Doug, can't shake the weight of his inheritance, as much as he wants to. The movie opens with an electrifying scene—Doug and his crew of derelict friends pulling off yet another robbery—only this time, they take the bank manager (Rebecca Hall) hostage. From there, things unravel in ways Doug, the mastermind of the operation, couldn't ever anticipate. Boy falls for girl, girl falls for boy, FBI hunts boy while boy's best friend, played by Jeremy Renner, becomes one step closer to psychopath.
The cast has no weak link. Jon Hamm commands the screen as the FBI agent hell bent on bringing in Doug's crew; Hall is both feisty and shattered as the bank manager who falls for Doug and tests him to be a better man; and Chris Cooper, as Doug's imprisoned, murderous father, is haunting in his weighty scene that give the audience everything they need to know about who Doug is, where he came from, and the scars that may never be healed. Renner is menacing and authentic and mesmerizing, and if I hadn't seen him in The Hurt Locker, I swear I would have assumed that Affleck plucked him off the streets and shined a camera on him. Even Blake Lively holds her own as a used-up junkie who's disposable to everyone but her daughter.
But it seems almost implausible that Affleck is the same guy who hammed it up in the aforementioned cinematic atrocities (must I mention Reindeer Games again?). I found myself wondering how the hell he pulled it off: the acting, the directing, the writing (he co-wrote the script). My only complaint was that I was so amazed at the turn-around that I wasn't able to forget that it was Affleck on my screen. He seems to have learned his lessons from J-Lo, that god-awful music video and that horrendous interview with Pat O'Brien, and he's working his butt off to stay out of the spotlight while making good movies.
It's surely not a coincidence that Affleck has gone home to Boston to film a movie about a guy who desperately wants out, who desperately wants to reinvent himself. And he's succeeded on all fronts, including the metaphorical one.
Others Tagged With