Weezer Declares Death to False Metal With New Album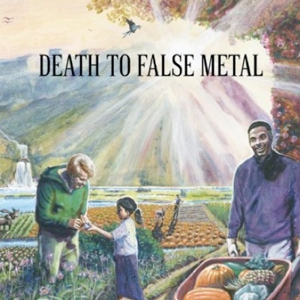 Say what you will about Weezer, but surely we can all agree on one thing: This band has the WTF album cover down pat. Following Raditude and Hurley, Rivers Cuomo & Co. will release Death to False Metal, a don't-call-it-a-compilation batch of revamped older songs with a cover that, well, you see it. It's a doozy.
As for the music, Death to False Metal's 10 tracks were all originally written in the late '90s or early '00s, but reworked—some majorly, others not so much—for the finished product that will be released on Nov. 2 via DGC/UMe. "These were great songs, great recordings, but for some reason they didn't make the final cut for previous records," Weezer frontman Rivers Cuomo said in a statement. "Some just weren't right for the albums we were recording at the time-just a bit ahead of their time or too 'rock.' Now, the time is right to introduce them. Together, they are the album that should logically follow Hurley."
Check out the tracklist below and see if you can guess which song is a cover. Give up? We've posted the original video for the song below the tracklist.
1. "Turning Up The Radio"
2. "I Don't Want Your Loving"
3. "Blowin' My Stack"
4. "Losing My Mind"
5. "Everyone"
6. "I'm A Robot"
7. "Trampoline"
8. "Odd Couple"
9. "Auto-Pilot"
10. "Un-Break My Heart"
Weezer will kick off its Blinkerton tour on Nov. 26.
Got news tips for Paste? Email news@pastemagazine.com.
Others Tagged With