Best of What's Next: Coma Cinema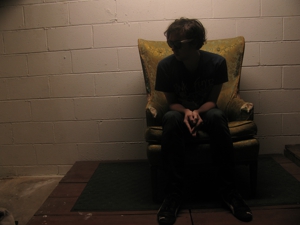 Hometown: Spartanburg, S.C.
Album: Blue Suicide
Members: Mat Cothran (records everything solo)
For Fans Of: Casiotone for the Painfully Alone, Dead Gaze, Daniel Johnston
Mat Cothran, a 22-year-old Spartanburg, S.C. native, records delightfully poppy tape music under the moniker Coma Cinema—but he's not in it for the money. Both his full-length albums, 2009's Baby Prayers and 2010's Stoned Alone, are available for free on his website, and he doesn't take donations. Instead, Cothran posts: "The music you'll find below is currently free for you to download and listen to. If you feel the need to compensate us, we only ask that you share the music with others."
That lack of a business model will likely carry over to Cothran's upcoming album, Blue Suicide, due out on vinyl (Fork & Spoon Records) and cassette (Wonderbeard Tapes) sometime in mid-January.
"The label's trying to force me to take a certain percentage of the vinyl sales but I don't really want to," Cothran says. "I just told them [to] put out more records with [my cut]. Do something good with it. I don't know—it just feels weird to me. Especially people who sell mp3s, I'm like, 'Man, what are you doing?' That'd be like me charging for oxygen or something. I just don't get it because it's freely available. I just want people to hear it. I don't care about anything else."
He plans to fund his hopeful spring 2011 tour through earnings at his part-time produce-stand gig.
"To me, it's just like: You work hard. You just go work some horrible job for a while and save everything you can. It's not the best way to do it. I don't know, I guess I sort of sound like a Republican right now," Cothran laughs. "Like, 'Pull yourself up by your boot straps!' Like Ronald Reagan or something."
Accordingly, all of Coma Cinema's stuff is recorded on a shoestring budget. Around age 15, Cothran started recording simple guitar songs on a Dictaphone recorder and eventually graduated to late-'90s digital equipment. But he continues to work exclusively in his now-empty childhood home—a space in the woodsy loneliness of the nearby Glendale—where he plans to record forever.
"It's in the middle of this super scary old mill town—there used to be a mill there but it burned down. I grew up hearing crazy stories about that place. My grandparents used to tell me there were demons there and stuff," he says. "Even if I move to Nebraska or something, I'd probably come back to record there. It's sort of become the official studio."
Cothran attributes the desolate, crime-infested nature of Spartenberg—a city about an hour away from the college-town of Columbia—as the largest push to constantly record. His next album—yes, the one following Blue Suicide—is already halfway done.
"I have to [record] all the time or I get antsy and stuff because it's really boring where I live and if you're not doing something, then you're going to be shooting people downtown or something," Cothran explains.
The one thing holding him back from finishing this new, unnamed record? Visual inspiration.
To Coma Cinema, each album's artwork is a framework upon which to build his cryptic lyrics and music. Each image Cothran selects to adorn his albums has got to be special.
"I guess I'm a visual person," he says. "So then I can visualize it, and I can have a goal [and] make it sound like the picture—I don't deviate from that too much." So the search for continues for his current project.
Baby Prayers features a photograph he took of his cousin—a sort of fuzzy, wide-eyed toddler. The two army men in the desert representing Stoned Alone came from a photo album Cothran found in an abandoned house. Blue Suicide's art comes from accidental photograph his friend took of his dog leaping at the camera, its tongue curled and face slightly demented.
"The dog looks sort of crazy," he says. "I thought that fit the record. It's a dog that might bite you or hang out with you or something. It could be a really cool dog that's friendly and excited or it could be a really crazy dog that'll eat your face. The whole suspension of that fit the theme well."
The suspension also may be attributed to a new sonic approach—far less guitar, heavier electronics and a little more of a direct approach on the subject of romance.
"There are probably the most positive songs on Blue Suicide—there are some really, well you could call them love songs," he says. "I've been listening to a lot of all those songs John Lennon wrote for Yoko and I kinda had that vibe about being really affectionate in a song.
"I don't think they're quite as deranged as the songs about girls on the first two records because I was sort of messed up in the head. I wasn't thinking right so there's a lot of weird, sort of creepy things going on—I don't know if anybody catches on to it. Hopefully they won't, so they don't think I'm a weirdo."
Download Coma Cinema's Caroline, Please Kill Me or watch a video for the song "Only" from Coma Cinema's Stoned Alone below:
Others Tagged With