Best of What's Next: Gospel Claws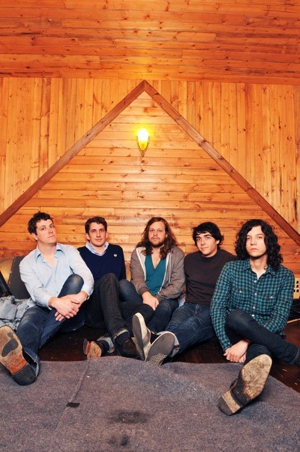 Hometown: Tempe, Ariz.
Album: C-L-A-W-S
Members: Joel Marquard (lead vocals, guitar), Wesley Hilsabeck (vocals, guitar), John Michael Mulhern (bass), Sloan Walters (vocals, guitar, piano), Scott Hall (drums)
For Fans Of: The Walkmen, The New Pornographers, Peter Wolf Crier
Joel Marquard, of Tempe, Ariz., always delivers. He recently took Paste on his Fed-Ex route and talked about his rambling desert-pop band Gospel Claws.
Besides some funny anecdotes about tardiness-loathing meth-heads and narrow escapes from vicious pets, Marquard's days driving delivery trucks helped play a key part in solidifying Gospel Claws' line-up.
As Marquard's time singing and playing guitar with his previous band Dear in the Headlights came to a close, fate (and maybe his job, too) revealed the new outfit's guitarist.
"Wesley [Hilsabeck], the guitar player, I had met a long time ago and kind of thought he was a cool dude," Marquard says. "I never really saw him—randomly I did a delivery to him, and I recognized the name on the package and he wasn't home so I left a note. I said, 'Hey, this is Joel. Give me a call. How are you doing?' And then he called me that night—I think we talked for an hour. He came to practice and became a member."
Together the quintet recorded a five song EP and their debut full-length, C-L-A-W-S. "The name came from … whenever we play shows and I announce who we are, I'll say, 'We are Gospel Claws,' and I spell out 'claws' because I'm always afraid people are going to think we're Gospel Claus: C-L-A-U-S, like Santa Claus," Marquard explains. So that's how that came about."
Marquard's old producer from his DITH days, Bob Hoag, produced C-L-A-W-S. In Hoag's Mesa, Ariz.-based Flying Blanket Studios, the rollicking band tracked the record almost entirely live. "It's all of us pretty much standing in the same room and just playing. It was kind of fun and that's why there's random tempo changes and a song will just speed up," Marquard laughs. "It kind of makes for a better feel, I think—more raw."
As opposed to weeks on the road hitting different juke joints nightly, Gospel Claws hopes to start dotting the festival circuit—namely heavyweights like SWSX and Coachella. In the meantime, the flatlands boys are still calming down from the initial exuberance of being featured on NPR's All Songs Considered's Nov. 16 show.
"I was pretty freaked out," Marquard says. "That was insane because I listen to that podcast—I download it to my iPod and listen to it quite regularly. I'm a huge NPR fan—all of us are, actually. I texted everyone and was like, 'We are fucking on All Songs Considered.' Yeah, it was pretty awesome."
Others Tagged With