Brew Masters Review (Episode 1: "Bitches Brew")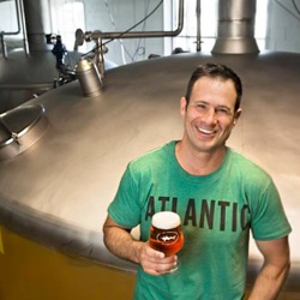 In launching its new craft-beer centric reality show, The Discovery Channel has scored a double coup: First, Brew Masters is the first high-production-value show that captures the growing passion Americans have for craft beer. Secondly, they landed craft beer's most affable emissary, Sam Calagione of Delaware's Dogfish Head Brewery to both narrate and star.
Ostensibly the series will focus on a different brew master each season, but since this is just Season One, the show is effectively about Dogfish Head, perhaps the most experimental and daring of America's 1,600 craft breweries (and Paste's pick for American Brewery of the Decade). Episode One features the development of a collaboration between Dogfish Head and Sony Music revolving around the 40th anniversary of Miles Davis' seminal jazz fusion classic, Bitches Brew.
The conceit of the show is a series of scenes clearly created for the camera that track the development of Dogfish's authorized tribute beer, also called Bitches Brew (if you care about the beer part, it's three parts imperial stout and one part Ethiopian tej—a honey-based fermented beverage). We see meetings with Adam Block of Sony Music, production challenges, a quixotic search for authentic ingredients, tasting sessions, and we meet a cast of supporting characters from the brewery as the special new Miles Davis beer is created, as per reality requirement: on deadline.
The big question in my mind: Who is this show for? I think Discovery is shooting for the naturally curious—and not beer geeks like me. Anyone that cares about craft beer already drinks it, and probably has Dogfish Head (and by extension Sam Calagione) in their pantheon of greats. This episode teased the idea of musical icons (with Calagione clearly jonesing to do another tribute beer for Dylan, Springsteen or whoever else that's been on Sony/Columbia)—and Calagione is an icon in his own right, having created both award-winning and brutally innovative beers for over 15 years. So will casual channel-flippers stop on Brew Masters?
My guess is yes, and for three reasons. First, most people like beer. Duh. Secondly, the production company Zero Point Zero understands the reality show need for both character development and story—they also created Anthony Bourdain: No Reservations and Diary of a Foodie. Thirdly, Calagione is simply winsome. But how do you make a show like this work financially? After all, craft beer represents only about 5-7% of the market. This is anything but mainstream. Discovery landed advertising from MillerCoors' Blue Moon, as well as Dos Equis. Neither are craft beers, but I'm not complaining (though many beer geeks are if you witness the message boards over at BeerAdvocate.com).
We've seen this story before: Cool underground thing gets some mainstream attention and the early-adopters freak out. I say kudos to Discovery, Dogfish Head and Sam Calagione for taking a quality American product (Hey, the increase in craft beer is creating good old fashioned manufacturing jobs!) and sexing it up for the mainstream. I have no doubt Dogfish will sell a lot of beer this week, and they should. They've earned it. I, for one, will be back for the second episode—even though I'm already converted, I still like going to church.
Paste publisher Nick Purdy launched his own beer company, Wild Heaven Craft Beers, earlier this fall.
Others Tagged With