Catching Up With... Kermit Ruffins
The Unshakeable Optimism of a New Orleans Legend in the Making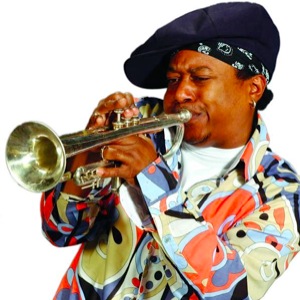 There's no one quite like Kermit Ruffins. When The Wire creator David Simon began casting Treme, his new HBO series about life in New Orleans, he asked Ruffins to appear as himself. "There wasn't any use in casting someone else," said Simon. "Only Kermit can play Kermit."
• Download 'Hey Look Me Over'
• Download 'I Got a Treme Woman'
As if Ruffins' life is mirroring the recent strides of his beloved hometown, the trumpet-blastin' band leader is thriving like never before. Ruffins—who co-founded the now legendary Rebirth Brass Band in 1982—has not only landed a starring role in one of the best shows on TV, he has become a cultural ambassador for the Crescent City. And he's got a brand-new album out with a title that says it all—Happy Talk. It's his first to significantly feature a big-band sound.
Paste caught up with Rufffins the morning after a few rounds of late-night beers with his two co-stars Steve Zahn and Wendell Pierce. But neither lingering hangover nor lack of sleep could penetrate Kermit's contagious positivity.
Paste: So you've got a new record out called Happy Talk—what made you want to do a big-band record?
Kermit Ruffins: Well, this one's not entirely a big-band record. There's a big band on about half of it. But one day I really want to do a whole big-band record. I just love big bands so much, from way back.
Paste: Who are some of your favorites?
Ruffins: I love Lionel Hampton, Count Basie, Cab Calloway. I saw Ray Charles' big band and Wynton Marsalis' big band in France [in the mid '90s], and when I got home the following week I started a big band that lasted two years.
Paste: With your song choices on the new record, is there anything in particular that ties them together?
Ruffins: Not really. But those songs have been in my head for a long time—and [I did] some favorites, too. Every time I get a chance to do a new thing, I go back to that catalog of real-down tunes from a long time ago.
Paste: What moment stands out the most for you from the Happy Talk sessions?
Ruffins: Oh, man, I'd say when we were rehearsing before we started rolling the tape—just sitting back, drinkin' me a cold beer and listening to the big-band rehearse. It just became so surreal once they all sat down and started reading the music.
Paste: Why'd you call the album Happy Talk?
Ruffins: We don't usually have a title going in; after we record the whole CD, we look back at which tune is really special, and this time it was "Happy Talk" (from South Pacific), so that's what we named it.
Paste: What was it about that song?
Ruffins: I've been listening to that tune since 1982, when I was with the Rebirth Brass Band. I just fell in love with it, and finally I had a chance to record it.
Paste: Listening to your catalog, and watching you perform, you seem like an artist who really respects tradition, but you're not afraid to bring it into the present day. Is this something that's important to you?
Ruffins: Yeah. I feel like anything I play is gonna be New Orleans traditional, just because of my style. I can take any tune, and it's gonna automatically turn New Orleans. And we have those great New Orleans musicians backing us up, too: [drummer] Herlin Riley and those guys—real New Orleans hard-swingin' cats.
Paste: If you could collaborate with anybody—a dream collaboration—and you could pick one person who's dead, and one who's alive, who would it be?
Ruffins: Man, that's a damn good question. Hmmm. It would probably be Louis Armstrong, and alive—I'm probably gonna have to say Wynton [Marsalis].
Paste: There's been a lot of talk lately about New Orleans banning street performers after a certain time. What do you think about that, and what do you think it would take away from New Orleans culture if successful?
Ruffins: Man, I was just riding through the Quarter yesterday, and I saw a bunch of street performers performing last night right about 7 o'clock. And it's really something that—it's like the city should be paying those guys to play out there, you know? Because it's one of the biggest tourist attractions that we have: hearing a sax player or a brass band standing on the corner playing for tips—it's just so traditional, just so New Orleans. If they take that away, it'd really be a shame. Though I don't think that would ever really happen. We'd fight that 'til the end before we let that happen.
Paste: With all the brass bands, and all the street music, what kind of impact do you think that has on the youth of New Orleans?
Ruffins: The streets is like a paid rehearsal. I mean, you go out there, you're writing new tunes, you're keeping your chops straight. And to play every day like that, and earn 30 or 40 bucks, is real, real special for the kids. When I was in high school, man, we would leave school and go out  there and play for tips, and that little change really helped us a lot. Kept us out of trouble, too, you know? You get to make money every day doing something that you really like to do. So it really has a big impact on any young musician who's just starting out. Because that is a spot where you can go and really get a lot out of it. Normally, you just don't have anywhere else to play.
Paste: I've heard that you've got a big fleur de lis tattooed across your chest. What does that represent for you?
Ruffins: Oh, man, I'm just one of the biggest Saints fans around. I didn't want to do it, but I finally got up the nerve to do it, and as soon as I did it, the Saints won the Super Bowl! … I always said, we gotta get one win. And then I was telling everybody in the city, if Obama gets in, the Saints are gonna win the Super Bowl. [laughs] And sure enough, that's the way it happened! Then I wrote the song that said, "All I want for Christmas is the Saints in the Super Bowl," (Kermit Ruffins – 'A Saints Christmas'") and my wish came true. It's crazy, man. I'm just so excited for the Saints and the city right now. Everything is going so good. I mean, everything is just happy talk. Everything is so positive right now in the city. It took us a long time to get to the Super Bowl, and we finally got there and won.
Paste: You've been a big part of the HBO's new series Treme. How did you first get involved with the show?
Ruffins: [Creator] David Simon came to me about five or six years ago, before Katrina, and he wanted to do something on the lifestyles of the musicians and the people of New Orleans. After the hurricane, of course, they had a bigger story, so HBO said yeah. And as soon as I got home in '06, my manger called me and told me David Simon wanted to come to my house and have a talk with me. I just didn't put two and two together—David Simon and The Wire and all that—until after he left my house! [laughs] I kinda just remembered him vaguely from telling me about the idea a long time ago. And he says, "Man, this show's really gonna happen. I'm gonna be giving you a script real soon. I want you to play yourself—are you interested?" I said, "Goddamned right I'm interested!" And I'm gonna be shootin' again sometime next week.
Paste: Everybody I know from New Orleans says it's a very authentic show.
Ruffins: It's the best show I've ever seen anybody do on New Orleans. Of course, there wasn't that many shows done on New Orleans. I mean, a lot of movies were shot here for the dock scenes, but it wasn't really about the city, and it wasn't ever that deep into the musicians—the lifestyle and the chefs and the Mardi Gras Indians. But Treme has really showed our culture to the whole world. Some people had no idea what was going on here in the city, and now the world has had a taste of what New Orleans is really all about. And we really needed that boost, man. It's really boosted all the musicians' careers, and it's boosted the outlook on New Orleans.
Paste: I know you play yourself on the show, but have you ever acted before?
Ruffins: Not really. I did a little something for Big Easy. That was one show that didn't go over too well. But nothing where I really had to remember my lines and be ready.
Paste: What's your favorite part about working on the show?
Ruffins: Oh, man, just hanging out with all the cats—I was hanging out with Steve Zahn last night 'til 2:30 in the morning, and Wendell Pierce. After we finished up, we were at the bar laughing our butts off. Hanging out with all those brilliant people who've been doing it for so long, that's the best part for me.
Paste: Is there much difference between playing yourself on the show and being yourself in real life?
Ruffins: No, not at all. When I read the script—somebody must've really been following me around [laughs], 'cause they really got me right.
Paste: One of your bands is called the Barbecue Swingers, and I've heard you make some mean BBQ.
Ruffins: You know, every other saturday morning, my whole family used to go out fishing and crabbing. Then we'd get in the backyard about 11 in the morning, after waking up at 4 a.m. and going fishing, and dragging until about 10 in the morning. Get back to the house at 11, clean all the fish, frying fish in the backyard, barbecuing—it was always the outing we'd have with the whole family. I'd been a sous chef, since I can remember, for my grandmother and my mom and dad.  And now, finally, I'm doing a lot cooking myself, and I just love the stove, man. I love the kitchen. I love the outdoor cooking with the barbecue grill—I wanna have that barbecue smell almost every day.
Paste: One more question for you—what are your thoughts on how New Orleans is doing right now? The city seems to have sprung back to life so quickly after Katrina. That said, what do you think is the biggest problem with New Orleans right now, and what do you think is the best thing about New Orleans right now?
Ruffins: The worst thing is that the Lower 9th Ward and New Orleans East—it's gonna be a while before those areas come back. But the best thing about New Orleans right now is that so many of the businesses are flourishing. A lot of the people have come back, and the city is thriving like it's never thrived before. It's getting recognition, and the music, as far as the young kids coming up, there are so many young kids playing music right now—jazz music. It's just unbelievable.
Others Tagged With