Kanye West: My Beautiful Dark Twisted Fantasy
[Def Jam/Roc-a-Fella]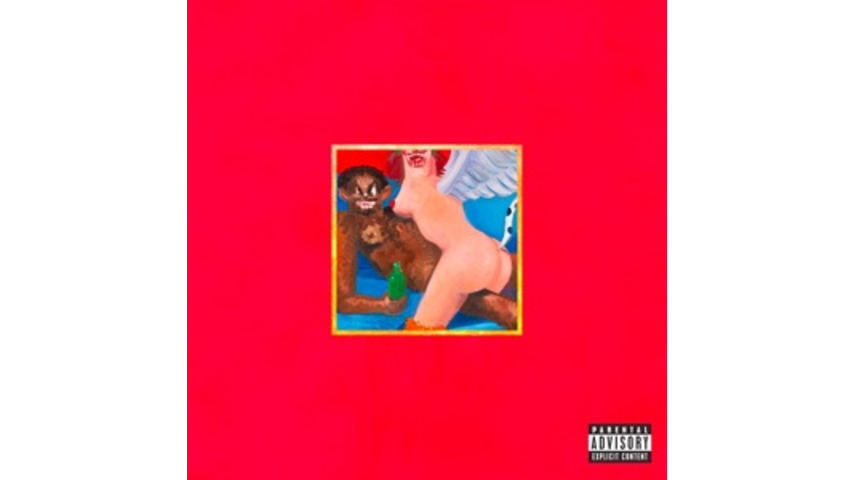 There was a time when Kanye West seemed too inventive, too smart and too good for pop music. "Jesus Walks" and "Gold Digger" won him Grammys; the Katrina telethon and Christian-baiting Rolling Stone cover earned him wider cultural attention. But what made West such a perpetually compelling figure was the sweeping sense of purpose that motivated his every enterprise. His music, forever brazen in its disregard for structure or subtlety, seemed like an acquired taste, yet he made fans out of everyone: indie snobs, rap purists, anybody who could appreciate the frustrations and rewards of unbridled ambition.
But maintaining the endless spectacle of his career proved difficult for West, who in recent years has appeared strangely adrift. He was always among the best rappers working—unlike most of his hip-hop peers, West will never be content to deadpan complacent boasts—but the extent of his remaining creativity wasn't clear until a few weeks ago, when My Beautiful Dark Twisted Fantasy leaked online. It's a nuanced, intimately personal record wherein even ostensibly boastful tracks are tangled with insecurities, both personal and professional.
 
Consider the uncomfortable moment on "All of the Lights" when West admits to slapping a former girlfriend. He delivers the couplet in a remorseless growl that confirms his constant need to reaffirm his masculinity, a trait that distinguishes him even in the testosterone-driven world of hip-hop. Onyx, Chino XL, and Big Pun might talk endlessly about violent strife, but West is different. He spends the entirety of Dark Twisted Fantasy discussing his sexual and financial prowess in a way that contrasts sharply with his "backpacker" image, suggesting tiredness with being pigeonholed as a disciple of the Native Tongues. The 33-year-old does not identify as a conscious rapper, but in his endless pursuit of validation from tougher peers, West has penned a revealing and moving character study.
 
On Dark Twisted Fantasy, West surrounds himself with gruff collaborators like Pusha T of Clipse and Raekwon of Wu-Tang Clan. The steely, insistent, often self-produced beats prove an accommodating backdrop for West, who is contemptuous to such a degree that one can imagine these sentiments coming from Jay-Z, circa The Dynasty: Roc La Familia.
 
Dark Twisted Fantasy is also a much stronger work than anyone could have reasonably expected from West. His previous disc, the volatile, romantically despondent 808s & Heartbreak, found the artist in a uniquely unfocused state, as if he'd spent weeks in the studio with nothing except his liquor and his confused, conflicted thoughts. Yet Heartbreak was patchy in execution, with lyrics that were hastily written and vocals that relied too heavily on Auto-Tune. The intervening years were also laborious: rumors of alcoholism, canceled tour dates, awards show meltdowns, and the ever looming specter of his mother's 2007 death propelled West into a tailspin of isolation so severe that some wondered if he had another good record in him.
 
The Chicago native won little sympathy—instead, he received derisive potshots from blog pissants, tweeting celebrities, and even our sitting president—and reacted with unsurprising vengeance. In June, after an extended period of lull, West roared to life with "Power," a tune saddled with the same excess baggage as Michael Jackson's 1995 album HIStory. West, like Jackson, was angry: angry with the public that fed off his anguish, angry with himself for so tirelessly courting success that ultimately proved hollow.
 
That sense of despair lingers throughout Dark Twisted Fantasy, revealing itself in ways that aren't immediately noticeable. "Champagne wishes / 30 white bitches / I mean, this shit is fuckin' ridiculous," West asserts over the hiccupping hi-hats and synthetic strings of "So Appalled." The line illustrates a triumphant portrait, but West's churlish snarl is tellingly ominous, as if champagne and "white bitches" are necessities to mute his barely contained disillusionment.
 
"Devil in a New Dress" brims with soulful flourishes, creating an air of lush exuberance that recalls his older work. On The College Dropout, his expansively, breathlessly beautiful 2004 debut, West architected a sound full of posh samples and crisp percussion. His increasingly pop-oriented beats sometimes proved garish on 2005's Late Registration and 2007's Graduation, but Dark Twisted Fantasy stands as his most progressively produced album yet. West no longer swathes every hook in overstated orchestral fanfare. These new tracks are bonded by their strange, subdued thump. The lurching, bass-heavy "Monster" is one of the most minimalist pieces in West's catalogue. "Lost in the World" rides a quietly propulsive disco rhythm, while "Blame Game" and "Runaway" lean towards piano balladry. The record sounds innately full and vibrant, but by peeling back a few layers, West has emerged with his most effective, plaintive work ever.
 
It helps that West has become an incredibly good rapper, a rapper of grace and authority. On previous albums, it was usually the guests who sounded most comfortable: Talib Kweli on The College Dropout's "Get 'Em High," Nas on Late Registration's "We Major," Dwele on Graduation's "Flashing Lights." But West's improved precision anchors the entirety of Dark Twisted Fantasy. Gone is his erratic, shaky flow. West has gained discipline and now rhymes in clipped, multi-syllabic bursts: "And my only focus is / Staying on some bogus shit / Arguing with my older bitch / Acting like I owe her shit." The improvement is to be expected. In 2009, West found his voice through a series of startling guest verses, upstaging great rappers like Jay-Z and Twista with a tightened confidence that he'd never quite exhibited before. Dark Twisted Fantasy is the logical next step; he handles these beats with poise and prowess.
But West is nothing if not buoyantly eccentric, which means his surreal lyrics are the focal point on Dark Twisted Fantasy. On "Hell of a Life," he recounts futile efforts to have anal sex with a porn star. On "Blame Game," he describes his cocaine-fueled escapades in bizarre enough detail to compete with Richard Pryor or Sly Stone. And "Power" is a deranged electro-funk epic with a harrowing outro about suicide; when he sings, "this will be a beautiful death," West sounds unnervingly at ease.
With My Beautiful Dark Twisted Fantasy, West has created a paradox that can be summarized thusly. It sounds like him, yet nothing like his previous work. It sounds like Chicago, yet retains an unmistakably universal appeal. It is his fifth release, yet bustles with the bedazzled energy of someone aching to be heard for the first time. It oozes disdain, yet warrants empathetic listening. It is profoundly imperfect pop music, yet it is magnificent pop music. And in its many contradictions, My Beautiful Dark Twisted Fantasy—perhaps this century's definitive portrait of torment, vanity, self-delusion, and pathos—has given way to stirring new possibilities.
Others Tagged With