OK Go Leading Los Angeles Parade Today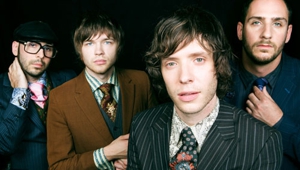 If you're in the Los Angeles area today, be on the look-out for an OK Go-led parade this afternoon. The group has partnered with Range Rover as part of the Evoque Pulse of the City project to literally trace its name into the city.
The band will be outfitted with GPS devices as they play an eight-mile parade route. Their tracks will spell out "OK Go," and in true viral video fashion, a camera crew will be on hand to document it. Fans are encouraged to download the Pulse of the City app and make their own videos as well. The band will choose their favorites and use them to accompany the video, which will be released in Jan. 2011.
Bassist Tim Nordwind told Paste that the band was inspired by the second line parades in New Orleans. "We spent a lot of time in New Orleans, where music exists primarily as a live event," he said. "We thought it'd be great to do something like that in our home city. We wanted to do more of an art project with it."
The parade route is being kept under wraps, but things will kick off at 2 p.m. PST. Nordwind said the group will be playing anywhere "between three to six hours" worth of material. "I spent most of the week putting together a songbook for this, and we've got about 50 songs we might play," he said. "We wanted to focus on things people would recognize and be familiar with: everything from old folk songs to showtunes to '60s rock 'n' roll like the Beatles. And of course, we'll be playing some OK Go songs as well."
The Beatles, huh? Wonder if the boys are planning to pull a Bueller. Catch them marching through L.A. this afternoon, and for more information on the project, visit HelloEvoque.com.
Got news tips for Paste? Email news@pastemagazine.com.
Others Tagged With