Scenarios From Africa: Film Project Promotes HIV Prevention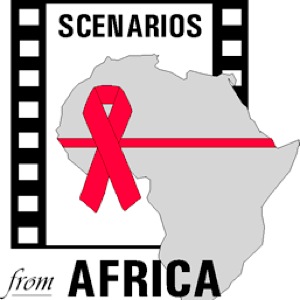 In 2003, 20-year-old Sandra Nsambi Nzali was buying groceries with her mother in Matongé, an African district in Brussels, when she spotted a folder on the store's counter. Sifting through its contents, she discovered a script-writing contest hosted by Scenarios from Africa, an HIV/AIDS education initiative based in Ouagadougou, the capital of Burkina Faso.
The script Nsambi Nzali wrote and entered was ultimately chosen by the organization's national and international juries to be adapted into a short film by African director Mahamat-Saleh Haroun, whose 2002 feature, Abouna, won the award for best cinematography at the Pan African Film and Television Festival of Ouagadougou (FESPACO)—Africa's equivalent to the Academy Awards. The resulting nine-minute film, The Heart of the Matter, illustrates a man's struggle to tell the woman he loves that he is HIV positive.
"The HIV virus affects the lives of so many people," says Nsambi Nzali, who lost an aunt to AIDS. "I wanted the world to be aware of that."
Founded in 1997, Scenarios from Africa is modeled after French HIV prevention project 3,000 Scenarios Against a Virus. The organization's 33 short films have been viewed by more than 200 million people—screening online, on DVD and on television—and all were written by Africans under the age of 25. Each picture, whether light and humorous (The Shop) or painful and personal (Never Alone), aims to promote various methods of HIV prevention. And, as Nsambi Nzali says, "encourage acceptance, tolerance and compassion" to remove stigmas associated with the illness, which in 2008 afflicted 22.71 million people on the continent.
Premier African filmmakers—like Fanta Régina Nacro, Cheick Oumar Sissoko, Newton I. Aduaka, Idrissa Ouédraogo and Abderrahmane Sissako—direct and produce all of the Scenarios from Africa shorts for little to no pay. A "commitment to putting an end to HIV and AIDS" inspires their pro-bono work, says Dan Enger, an international coordinator for the project. "Anyone in the arts, I think, anywhere in the world, and especially sub-Saharan Africa, will probably take a long time to tell you how many people they've lost to HIV."
Aduaka is shooting two films to be broadcast on Dec. 1, World AIDS Day. One will address the medical and legal options available to victims of rape and another will focus on the dangers of Internet predators. "It's very important that the messages be artistically appealing," Enger says, "so young people say, 'Not only do I get the message of the film or what the film is encouraging me to talk or think about, but also I like it and I want to watch it again.'"
Others Tagged With