Short Story: Vladimir Volkoff's "The Ways of the Lord"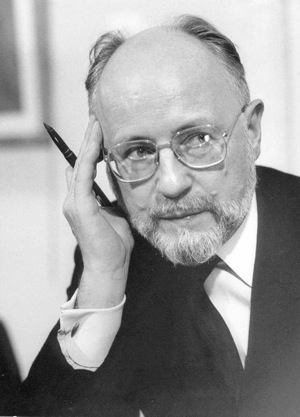 Page 1 of 4
In September of 2005, Russo-French novelist Vladimir Volkoff died in his sleep in Bourdeilles in southwestern France. Born in 1932 in Paris to White Russians who had fled Communism, Volkoff was passionately devoted to a heroic ideal that demanded selfless service and aristocratic honor. His reputation as a writer rested primarily upon the espionage fiction that propelled him into the French media in the early 1980s (The Turnaround, 1979; The Set-Up, 1982; and his magisterial tetralogy, The Moods of the Sea, 1980). But he was also a man of widely diverse talents and interests: an intelligence officer in the French army during the Algerian War, a college professor, an actor/director, an avid hunter, fencer, chess player, and weapon collector. A remarkably prolific writer, he published not only fiction but also essays, plays, biblical commentaries, biographies (including that of his great grand uncle Tchaikovsky), translations, science fiction, children's mysteries, and one could go on and on.
Thoroughly trilingual, he spoke Russian, French, and English with hardly a trace of an accent. Surprisingly enough, this man who was so passionately devoted to the Russian and French cultures lived for two decades in Georgia, first in Decatur, where he taught languages at Agnes Scott College, and then in Macon after he retired from teaching to devote full time to his writing career. Being an inveterate story-teller and an admirable conversationalist, Volkoff naturally inspired the yarn-spinning talents of his American friends, and before he left this country to return to his beloved Périgord region (east of Bordeaux), he decided to publish in French an anthology of the best stories he had heard in Georgia over the years. The collection, entitled Nouvelles américaines (American Stories), came out in Paris (Julliard/L'Age d'Homme) in 1986. "The Ways of the Lord" is but one of the more entertaining of those tales.
In order to understand "The Ways of the Lord" adequately, the reader must realize that even though it was published in 1986, Volkoff actually heard the story told considerably earlier. It is a story whose action should probably be placed in the 1960s at the latest. His depiction of the depictions of Chuck and Raspberry are decidedly vestiges of the Jim Crow era and might compare favorably with the picture of rural blacks in Flannery O'Connor's stories. It goes without saying that Volkoff found those Jim Crow vestiges repulsive. One clearly senses that despite the provincial ways of the Old South that irked him (like not being able to order wine with one's meal on a Sunday), Volkoff was charmed by some of the old-fashioned dignity and sense of propriety also associated with traditional Southern culture.
As a lifelong southerner who grew up in the sleepy little town of Rockmart, 49 miles northwest of Atlanta, and a career French teacher, I found the translating of this text to be one of the more enjoyable research projects in my recent memory. I was indeed fortunate to have the assistance of Denise Carla Volkoff, the author's widow, who was my colleague in the foreign language department at Mercer from 1972 to 1991. I also profited from the assistance of other colleagues: Anna Weaver Hogan, Jay and Diana Stege, Ray Brewster, and Kurt Corriher. They are each due my deep gratitude.
The story follows on the next page.
Others Tagged With