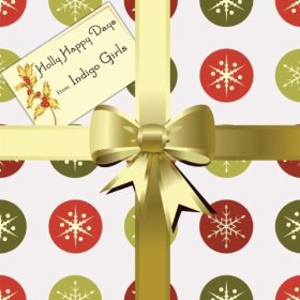 A couple weeks ago, we released a 13-song Christmas sampler, but more Christmas music kept flooding our inbox. So we've compiled a list of artists giving away free mp3s from all over the web. Happy holidays from all of us at Paste!
Asleep at the Wheel
"Santa Loves to Boogie"
Download
The Bewitched Hands
"Christmas Tree"
Download
Ben + Vesper
"Planet Witness"
Download
Part of A Familyre Christmas Vol. 3
Bill Mallonee
"Every King Will See You Now"
Download
From Works (in) Progress Administration Vol. 6
The Boy Least Likely To
"Christmas Isn't Christmas"
Download
Candy Claws
"Snow Bridge"
Download
Cary Brothers
"Father Christmas"
Download
The Civil Wars
"Tracks in the Snow"
Download
Crocodiles & Dum Dum Girls
"Merry Christmas, Baby (Please Don't Die)"
Download
Dan Zimmerman
"Let All Mortal Flesh Keep Silence"
Download
Part of A Familyre Christmas Vol. 3
Deer Tick
"Christmas All Summer Long"
Download
Deerhunter
"Artificial Snow"
Download
Dollyrots
"Messed Up Xmas"
Download.
Fanfarlo
"Just Like Christmas (Low)"
Download
Fauxbois
"Will You Be Mine?"
Download
Fleet Foxes
"White Winter Hymnal"
Download
The Giving Tree Band with Nellie McKay
"Here Comes Santa Claus"
"The Christmas Waltz"
Download
Glockenbass
"While by the Sheep (How Great Our Joy)"
Download
Part of A Familyre Christmas Vol. 3
Half-Handed Cloud
"A Favorite Christmas Gag Gift"
Download
Part of A Familyre Christmas Vol. 3
Helado Negro
"Parábola"
Download
Part of A Familyre Christmas Vol. 3
Holler, Wild Rose!
"O Christmas Tree"
Download
Part of A Familyre Christmas Vol. 3
I Was a King
"The Night Before"
Download
Part of A Familyre Christmas Vol. 3
Indigo Girls
"Your Holiday Songs"
Download
Isobel Campbell & Mark Lanegan
"Time of the Season"
Download
Jason Harrod
"Silent Night"
Download
From the EP Christmas Hymns
Joshua Stamper
"To Us A Child of Hope Is Born"
Download
Part of A Familyre Christmas Vol. 3
Kanye West
"Christmas in Harlem"
Download
Kevin Devine
"Splitting Up Christmas"
Download
Los Campesinos!
"Kindle a Flame in Her Heart"
Lovedrug
"Blue Christmas"
The Magnetic Fields
"Everything Is One Big Christmas Tree"
Download
moe.
"Together at Christmas"
Download
Ortolan
"O Holy Night"
Download
Part of A Familyre Christmas Vol. 3
Pallers
"Arctic Hymn"
Download
Pedro the Lion
"I Heard the Bells on Christmas Day"
Download
Rachel and Jon Galloway
"Glory"
Download
Part of A Familyre Christmas Vol. 3
The Raveonettes
"Come On Santa"
Download
Royksopp
"Le Cantique de Noel"
Download
Sara Groves
"Toy Packaging"
Download
Sarah Siskind
"Stocking"
Download
Sharon Jones & The Dap Kings
"Ain't No Chimney In The Projects"
Download
Shelby Lynne
"Ain't Nothing Like Christmas"
Download
Sleepy Rebels
"California Christmas"
Download
Slow Club
"Christmas (Baby Please Come Home)"
Download
Sufjan Stevens
"That Was the Worst Christmas Ever"
Download
Summer Camp
"Christmas Wrapping"
Download
Super Desserts
"Children Go"
Download
Superchunk
"Winter Games"
Download
Superions (featuring Fred Schneider)
"Fruitcake" (remixed by YACHT)
Download here
Two More Weeks
"Father Christmas"
Download
Way Yes
"The Dreadlock Holiday"
Download
The Yule Logs
"Christmas Lights"
Download